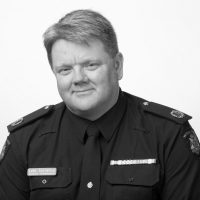 Luke Cornelius, APM
Assistant Commissioner
Luke is the Chief Commissioner's Representative on the Foundation's Board and a member of the Strategy & Governance Committee.
Assistant Commissioner Luke Cornelius leads the Victoria Police response to the VEOHRC Review into sex discrimination and sexual harassment. Luke is a member of Victoria Police Command and the Victoria Police People, Culture and Safety Governance Committee. He is also a member of the Victorian Institute of Forensic Medicine Council and The Victorian Donor Tissue Bank Management Committee.
Luke served as a Federal Agent for 14 years with the Australian Federal Police, with roles in Drug Operations, Legal Policy, East Timor and Human Resources, concluding his service as their Director, People Strategies (with the rank of Commander). Luke has also served as the National Secretary of the Australian Federal Police Association and was the founding Chief Executive Officer of the Police Federation of Australia.
Luke was awarded the Australian Police Medal (APM) in the 2010 Australia Day Honours List for distinguished service to policing in recognition of his services to police reform in the Federal Police and the Victoria Police. Luke has also been awarded the National Police Service Medal, National Medal, Police Overseas Service Medal, United Nations Medal for service in East Timor and medals for service with the AFP and Victoria Police. Luke holds a Masters of Public Administration: Executive (Monash), an Honours Degree in Law: First Class (Flinders), a Graduate Diploma in Legal Practice (ANU) and is admitted to practice in the ACT Supreme Court.