You Could Win a $250K First Prize Package
Win a Volkswagen Crafter Kampervan and Gold Bullion!
Raffle Closes June 15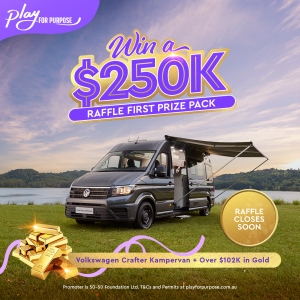 Here's your chance to win the ultimate mobile home for holidays, adventure and fun.
Hit the open road in the incredible Volkswagen Crafter Kampervan valued at over $147,000! This amazing campervan combines the best of Volkswagen engineering with a luxury fit out by legendary caravan craftsmen, Jayco. Comfortable and functional with loads of space, beds, kitchen and more! This $250K life changing first prize package also includes over $100,000 in Gold Bullion. Imagine where you would go!!
Second Prize: Travel Associates gift voucher worth $15,000
Third Prize: Visa gift voucher worth $7,500
Fourth Prize: Freedom gift voucher worth $5,000
Fifth Prize: Ultimate Everyone voucher worth $2,500
Get your Tickets