AFL Blue Ribbon Cup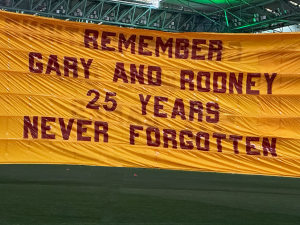 Last Sunday we celebrated the life Sergeant Gary Silk, and Senior Constable Rodney Miller with the annual Hawthorn vs St Kilda Blue Ribbon Cup at Marvel Stadium.
Established in 1999, the Blue Ribbon Cup is played in their memory after they were killed in the line of duty at Moorabbin 16 August 1998.
The Blue Ribbon Cup not only pays tribute to all our police members who have fallen in the line of duty but also acknowledges the work and dedication of those who continue to serve.
Rodney's son Jimmy presented the Cup to winning team St Kilda, while nephew Jonathan and Acting Chief Commissioner Wendy Steendam presented the best on ground.
Thank you Hawthorn Football Club and St Kilda Football Club and the AFL community for your continued support. Also thanks to the Hawks Community Foundation for providing some of the on ground photos.