The Victoria Police Blue Ribbon Foundation regularly attends various community events across Victoria and our branches also run events within their regions.
Crime and Justice Forum event hosted by Blue Ribbon Foundation Branch Westgate Branch
Location: Batman's Hill on Collins The Bourke and Wills Suite, 623 Collins Street, Melbourne VIC 3000
Date: 21 Jun 2023
Time: 6.00 - 10.00pm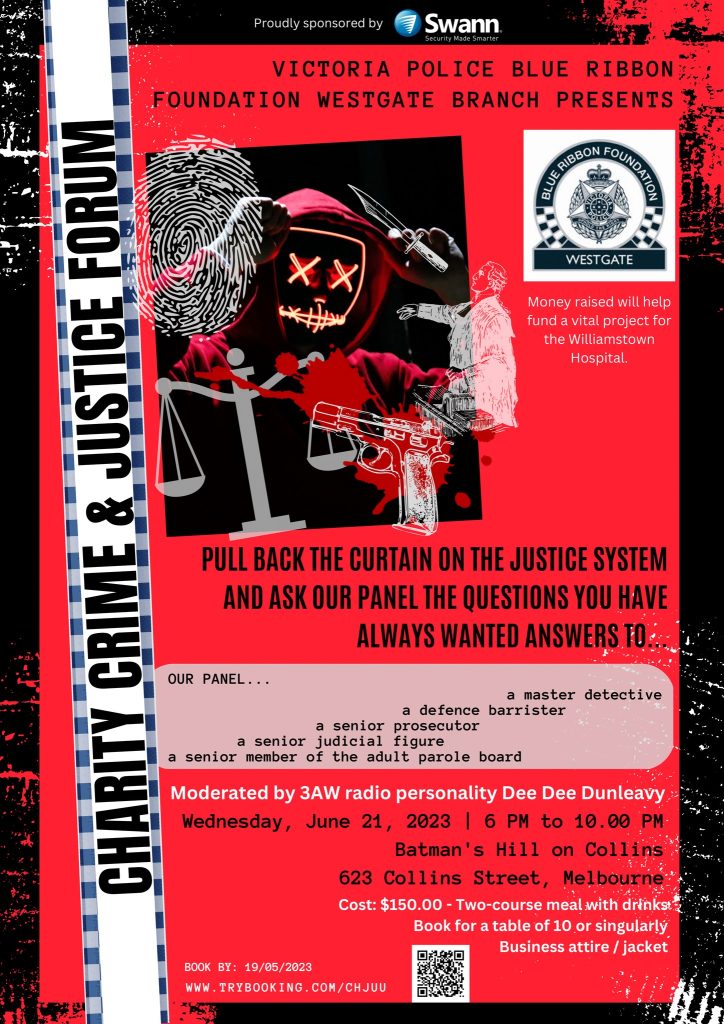 The Blue Ribbon Foundation Branch Westgate Branch "Crime and Justice" forum will provide you a unique opportunity to ask the people responsible questions about these situations. Our forum panel will include a long serving homicide detective, a high profile defence barrister, a high level member of the judiciary, a senior prosecutor and a member of the Adult Parole Board who will each provide an insight into their respective part of the criminal justice system.
The evening will be moderated by 3AW radio personality, Dee Dee Dunleavey.
The price of the ticket includes two course meal with beverages and numbers are strictly limited. Business attire / jacket.
Please note: Vegetarian, vegan & gluten free options are available. Strictly 18+
For details and bookings