Latest News
COVID Update – Stage 4
Posted by: Blue Ribbon Foundation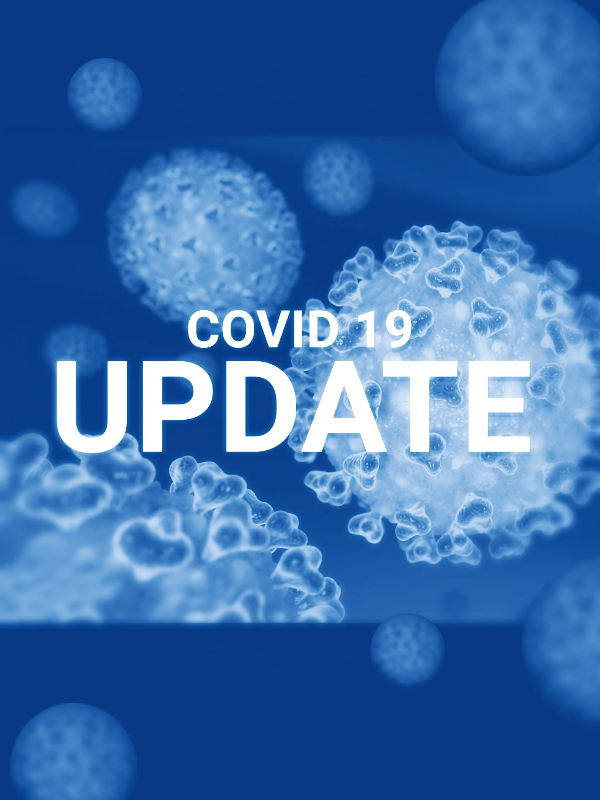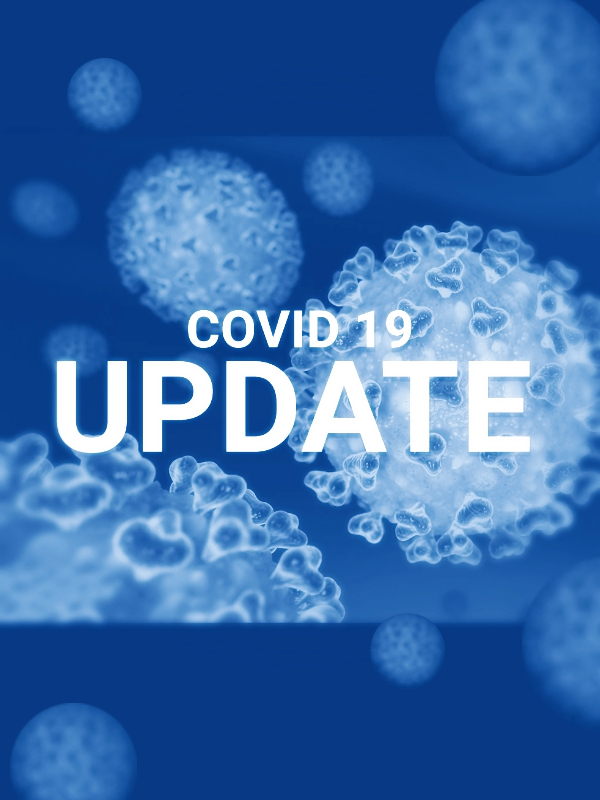 From midnight Wednesday 5 August the new COVID -19 Stage 4 business restrictions come into effect.
Our office in Moorabbin will be closed to the public however we will continue to respond to your emails and queries remotely. If you phone our office, please leave a message if no one is on site and we will call you back as soon as possible.
In line with the government guidelines we can continue to process your online orders with minimal staff on site whilst meeting our COVID Safe Plan obligations for the prevention and management of COVID-19, including development of a COVID Safe Plan.
We will process your orders as quickly as possible whilst meeting all the safe COVID 19 practices. Australia Post has experienced a surge in parcel deliveries so they may have some delays but rest assured you will get your delivery.
Thank you for all your support and please stay safe. We know this is a very challenging time for many people but try to stay positive as we will get through this.
COVID 19 – Lifesaving support
Posted by: Blue Ribbon Foundation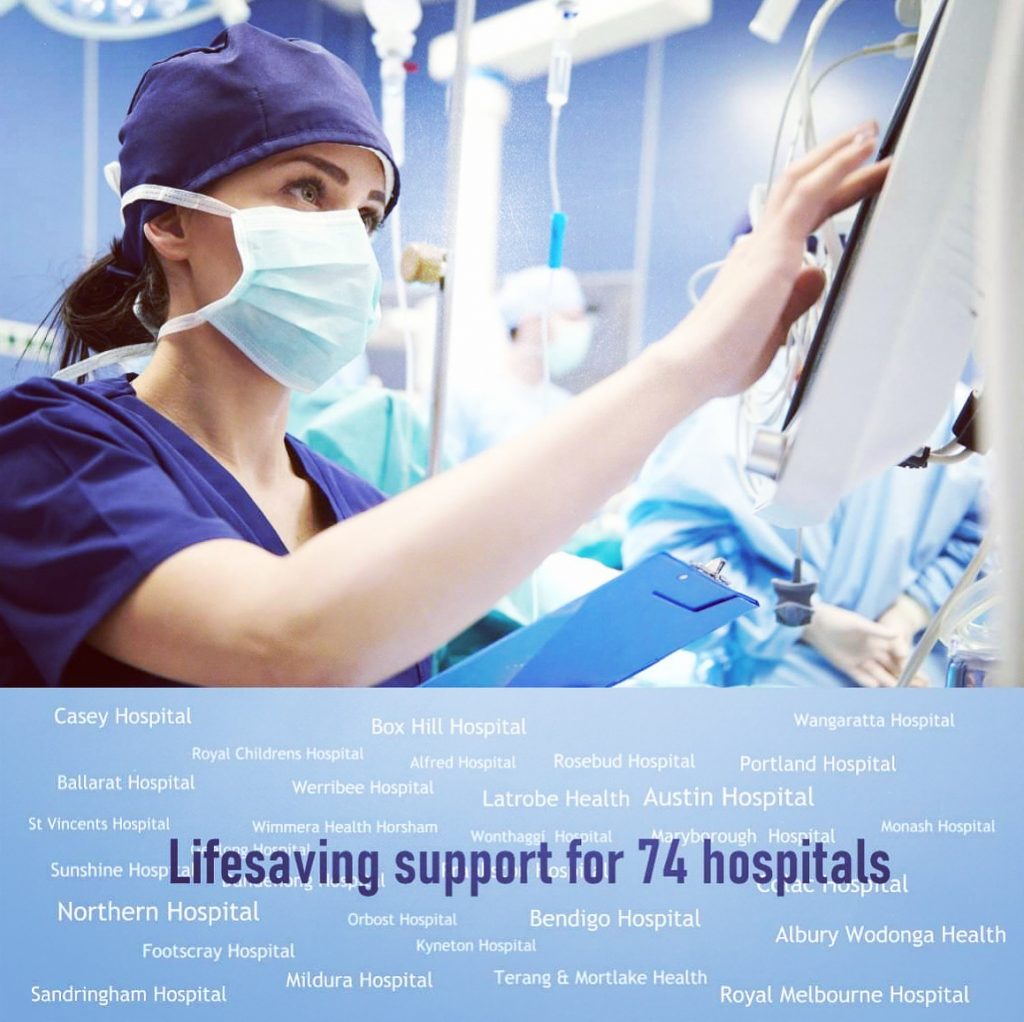 We are thrilled to let you know the final result for our COVID-19 appeal.
74 hospitals were nominated to receive support with almost $70,000 being raised from your donations and purchases of Constable T Bears.
100% of those funds have now been passed onto the 74 hospitals to support their lifesaving work.
We are so grateful for all the support especially as we know times are so challenging.
Click here to see full list of hospitals that were nominated to receive donations.
Thank you
Posted by: Blue Ribbon Foundation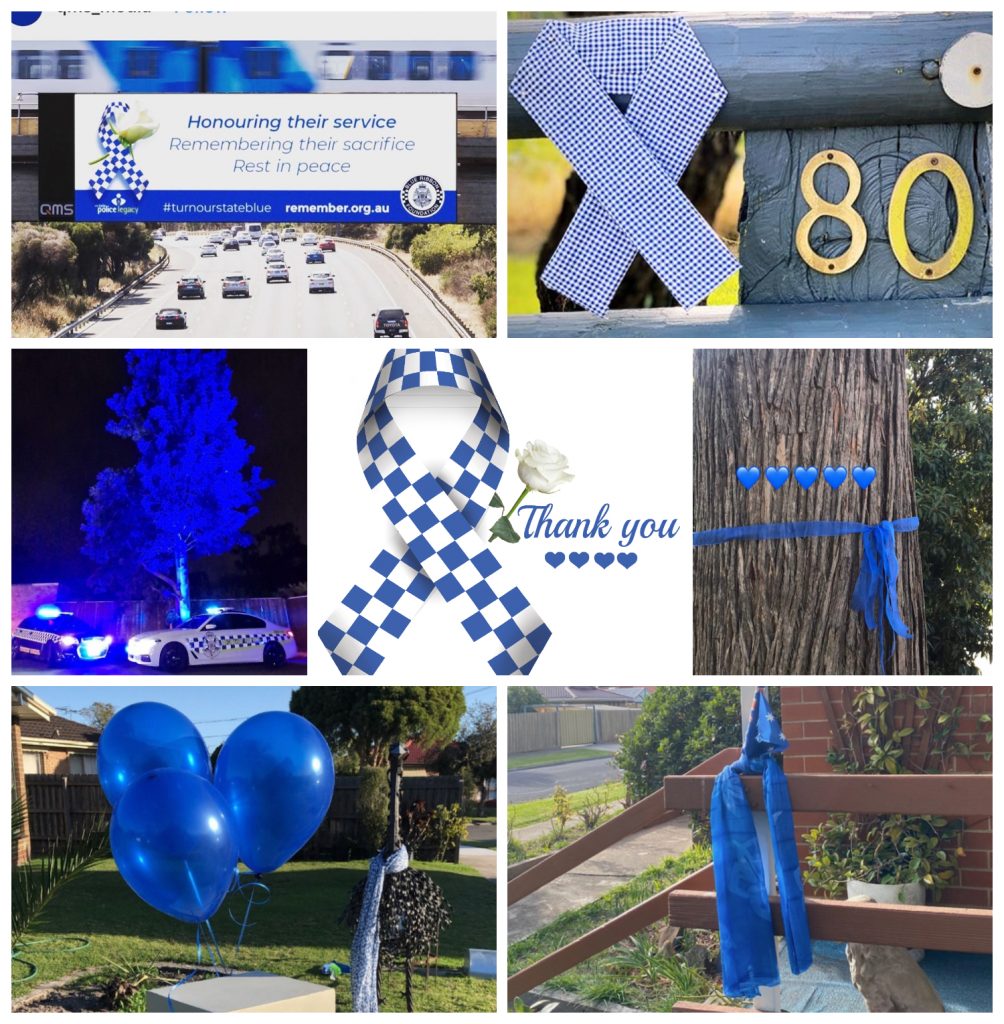 Thank you to everyone that has shown their respect for the four fallen Victoria Police Officers by turning our state blue with ribbons, balloons and lights shining in blue.
During such a tragic time, it has been heart warming to see the photos you have shared with us showing your tributes and respect for all Victoria Police members.
What a wonderful community we have.
In remembrance
Posted by: Blue Ribbon Foundation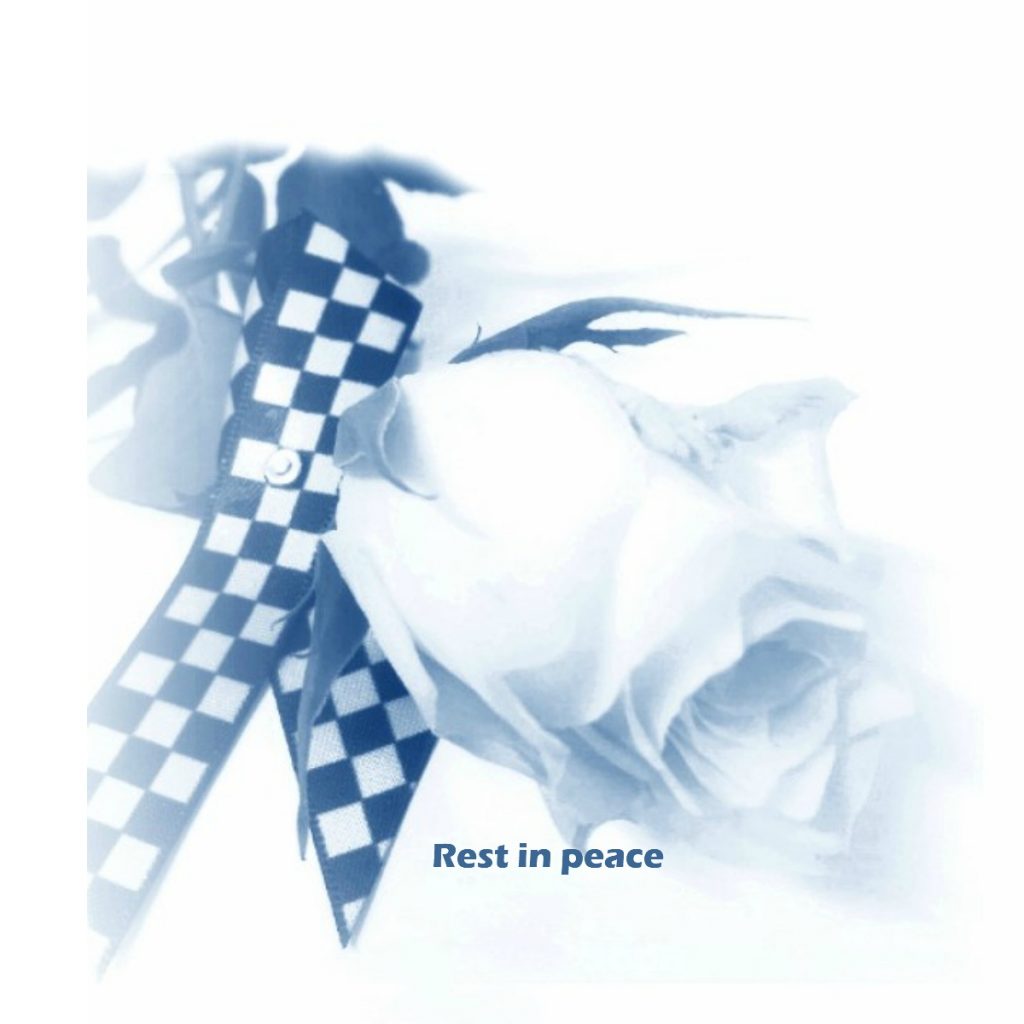 The Victoria Police Blue Ribbon Foundation – Board, CEO, staff and volunteers wish to express our deep sadness and shock at the tragic death of the four Victoria Police members. Such a tragic loss that will be felt deeply by us all.
Our heartfelt condolences to their families, friends and police colleagues for their loss. Our heart goes out to all the police and emergency service teams that attended the scene.

A tragic day for our community. 💔
You can pay tribute to the fallen :
You can show your support for Victoria Police by updating your profile pic with the symbol of police remembrance – the blue ribbon 💙
https://twibbon.com/support/in-their-honour
You can also make a contribution in their honour which will support the families and the Police Mental Health fund, this can be done via https://remember.org.au/donate/ or http://www.policelegacyvic.org.au/
You can also download a blue ribbon poster which is the national symbol of police remembrance, add your message and display it on your front gate or fence – download here
COVID 19 Appeal
Posted by: Blue Ribbon Foundation

The Victoria Police Blue Ribbon Foundation has a long history of supporting hospitals throughout Victoria. In fact, the Foundation has just dedicated its 57th living memorial, named in honour of a member/s of Victoria Police who died protecting our community. Each and every hospital project aims to do just that – remember lives by saving others.
With the current COVID-19 pandemic, now more than ever, we need to all work together as communities to support our hospitals and dedicated health care teams.
After consulting with a number of hospitals we know that the most important equipment is going to be ventilators and other respiratory and emergency equipment. So, we've launched an appeal so that Victorians who are able to, can make a contribution to help buy more of this vital equipment for their LOCAL hospital.
100% of the donations will be given to the hospitals nominated to support their lifesaving work during this health crisis.
For details https://remember.org.au/our-work/current-public-hospital-projects/
New Eastern Metro Branch
Posted by: Blue Ribbon Foundation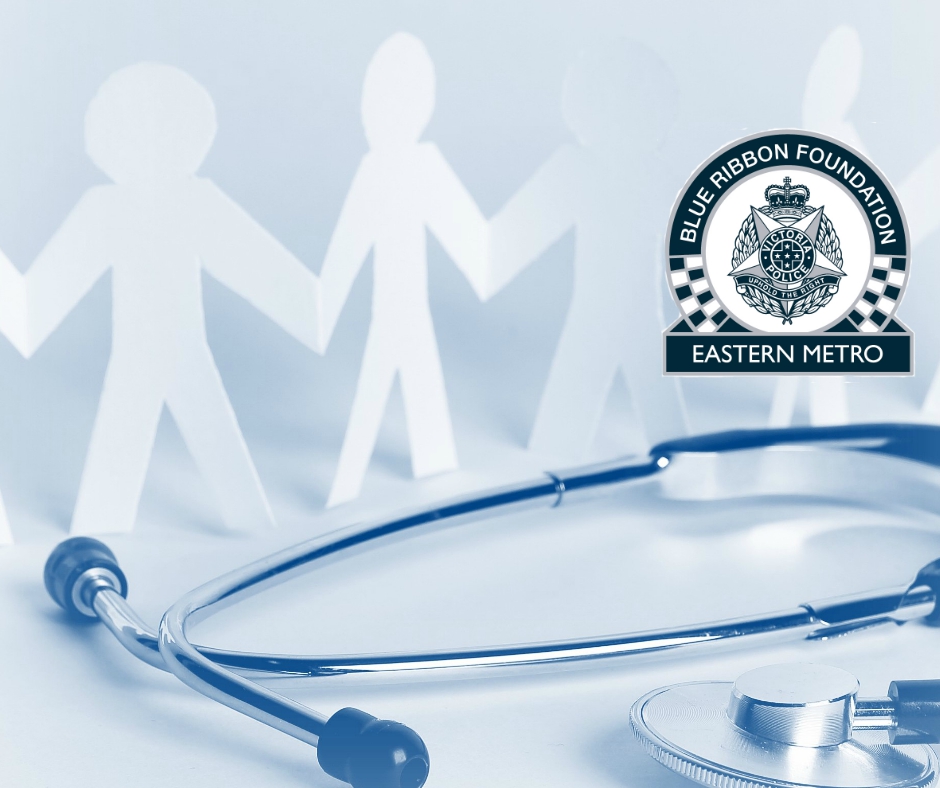 We are excited to share the news that our Board recently approved the formation of a new Eastern Metro Branch to expand on the work already being done in this region of Melbourne. This new branch will support our mission to perpetuate the memory of Victoria Police employees who have died in the line of duty through the support of worthwhile community projects in Victoria.
We are proud of our recent projects in the Eastern region of Melbourne including our largest hospital project the Critical Circulatory Support Service at Box Hill Hospital, providing artificial heart-lung support to critically ill patients and our current project to fund a significant upgrade of the women and children's precinct at the Angliss Hospital, located in Ferntree Gully.
On Thursday 12th March, 2020 a meeting will be held in Box Hill, to formalize the Eastern Metro branch and to elect a committee. If you are interested in attending the meeting or supporting the new Eastern Metro Branch please contact our office on 9555 8000 or via email admin@remember.org.au
Protective Services Officer Bear
Posted by: Blue Ribbon Foundation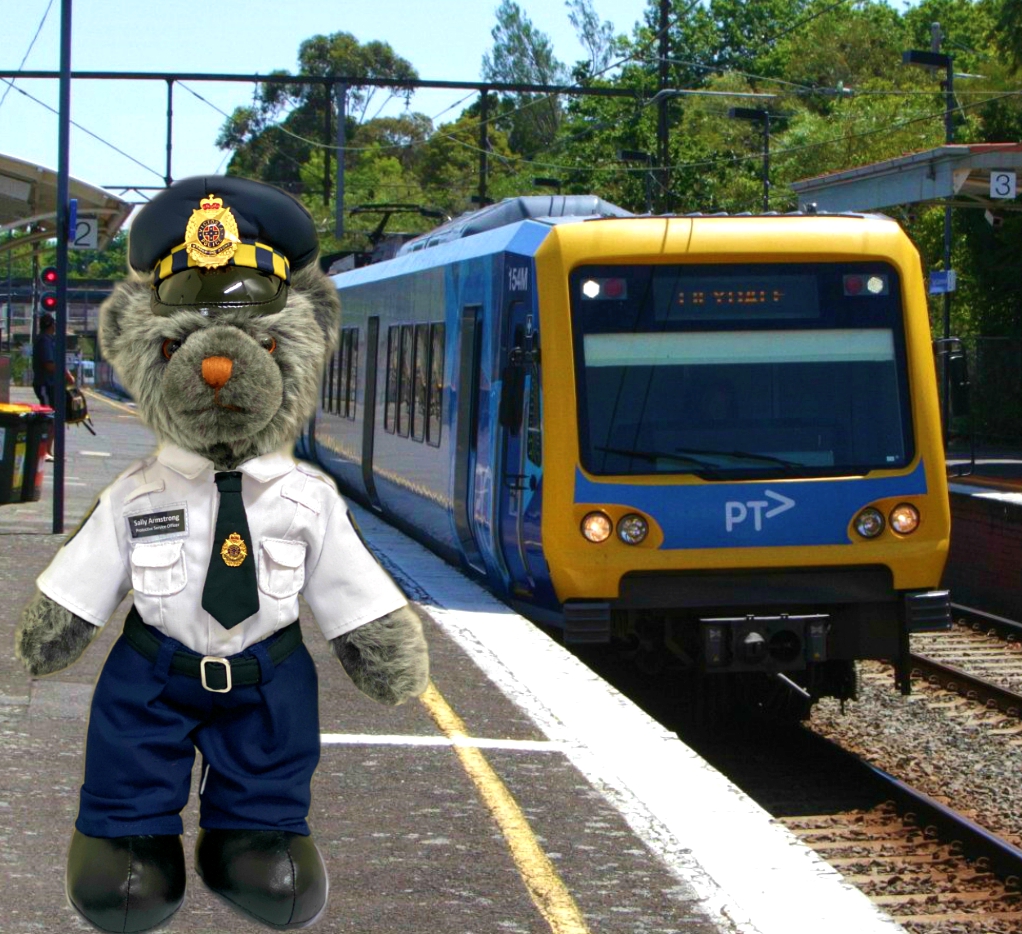 We are offering a very limited quantity of Protective Services Officer Bears for sale. Previously they have only been available to Protective Services Officer graduates and their families.

Protective Services Officers fulfill key roles for Victoria Police in protecting the community at our railway stations, public buildings and supporting our major events.

Standing at 42cm, every bear has been manufactured to very exacting detail and supplied in a presentation box.

https://copshop.com.au/product/protective-service-officer-bear/
Registrations Open
Posted by: Blue Ribbon Foundation

Registrations are open for the 2020 Angela Taylor Memorial Run/Walk to be held on Sunday 19 April.
For further details and registrations https://remember.org.au/events/angela-taylor-memorial-walkrun/
Blue Ribbon Ball
Posted by: Blue Ribbon Foundation
We thank everyone that supported our Blue Ribbon Foundation Ball held on Friday 22 November. All proceeds from our event will help to fund a significant upgrade of the women and children's precinct at the Angliss Hospital, located in Ferntree Gully. This would include enhancing the delivery suites, post-natal and antenatal areas. The project will be dedicated to Victoria Police Officers who have died in the line of duty.
To our volunteers, guests and amazing sponsors BankVic, DataDot Technology, #LotusEnergy, #MAservices, #ScentreGroupWestfield and #ADA thank you just doesn't seem enough.
The winners of our major raffle were :
1st Prize Joshua H (Bali Trip), 2nd Prize Jacqui M (Crown Vouchers), 3rd Prize Adam W (Samsonite Luggage Set), 4th Prize Sam H Pancake Parlour vouchers and 5th Prize Joshua H (Cruden Farm tour and 1 doz wine)
Dedication Ceremony – Box Hill Hospital
Posted by: Blue Ribbon Foundation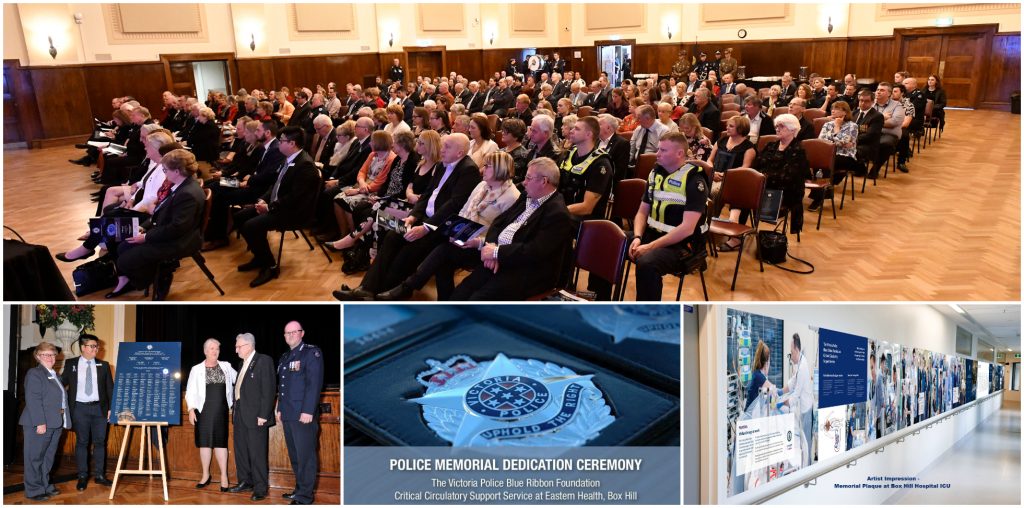 On Thursday 19 September, we held a Dedication Ceremony for the Victoria Police Blue Ribbon Foundation 'Critical Circulatory Support Service' at Eastern Health's Box Hill Hospital. This project is in honour of all Victoria Police Officers who have died in the line of duty. This new service is led by Eastern Health's Cardiology and Intensive Care Unit teams. The funding delivered equipment and established a simulation training centre to enable Eastern Health to provide life saving artificial heart-lung support. This new service will allow Box Hill Hospital to immediately rescue and best treat any patient experiencing life threatening heart or lung failure.
Each and every name of the Victoria Police Officers who have died in the line of duty  will be displayed on a plaque at Box Hill hospital so that those who have use of this life-saving facility will know that the price of its existence extends far beyond the financial cost.
We thank the families of Victoria Police Officers who have died in the line of duty for joining us at the ceremony. We also thank all our speakers, and those who provided support to this project.