Latest News
Memorial Service John Forbes OAM
Posted by: Blue Ribbon Foundation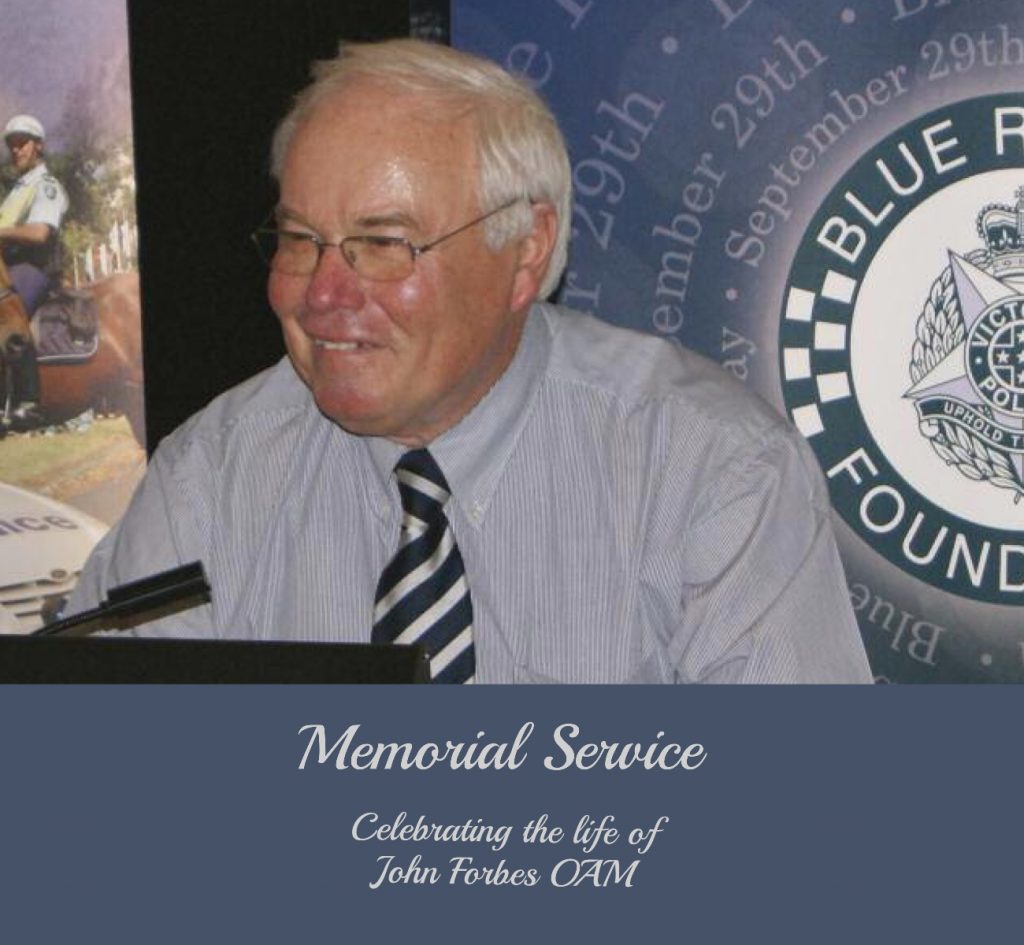 A memorial service to celebrate the life of our inaugural Chairman and good friend, John Forbes OAM, KSJ .
Date : Weds 17 March 2pm
Venue :Kangaroo Flat Sports Club, 1C Station Street Kangaroo Flat
Details :
John will be laid to rest in a private, family service that morning so the family have requested that the memorial service be a celebration of John's life. All are welcome to attend.
This will be an outdoor event so comfortable attire is recommended and appropriate sun protection.
The memorial service will also be live streamed
To view the livestream of this service, go to www.mulqueen.com.au/ livestream
Vale – John Forbes OAM
Posted by: Blue Ribbon Foundation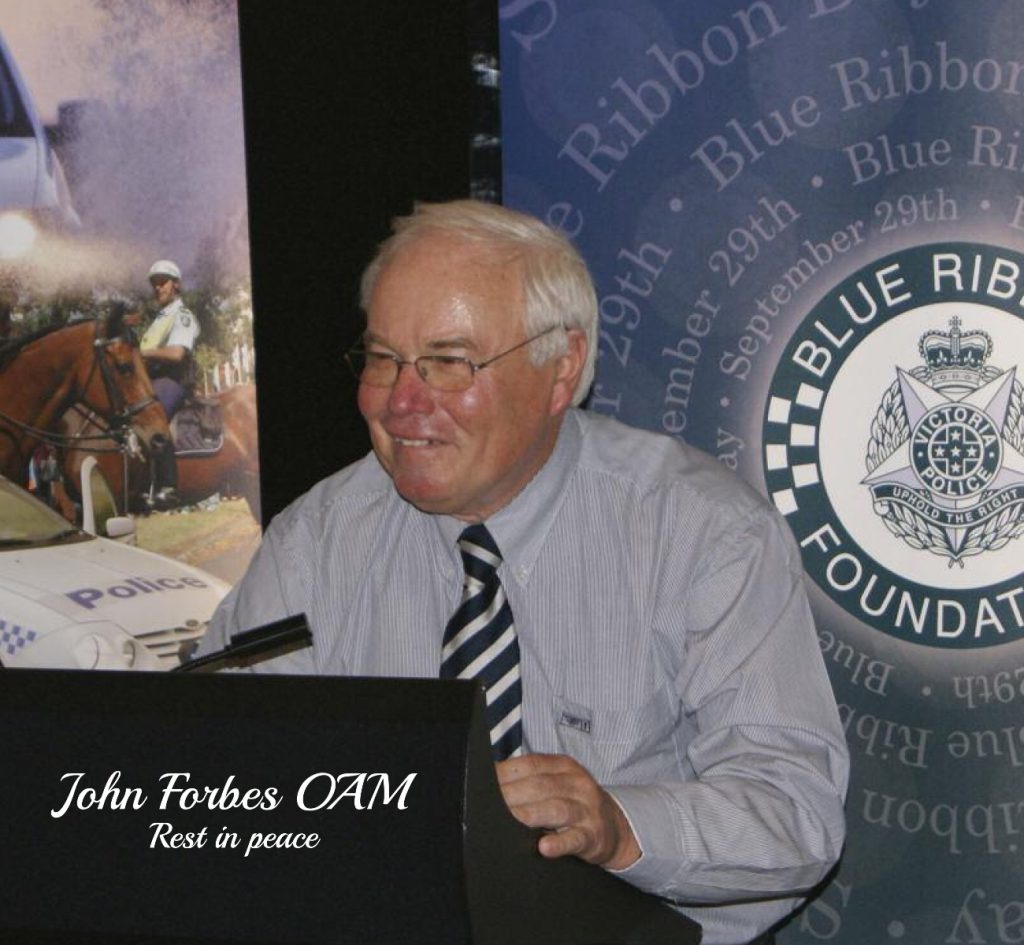 "John has such a significant impact on our Foundation and the lives of so many. He will be dearly missed"
Our Board, CEO and the Blue Ribbon Foundation family are so deeply saddened at the sudden passing of John Forbes OAM the first Chairman of the Victoria Police Blue Ribbon Foundation.
John was a founding member of the Tynan-Eyre Memorial Foundation, which then became the Victoria Police Blue Ribbon Foundation in 1998. He was also well known by sporting greats across Australia and around the World; as the National Promotions Manager for Puma and as a good and trusted friend to so many.
John had such an amazing impact with his support of charity groups, community and sporting organisations. He will always be remembered.
Our deepest sympathies to his wife Fay, their sons David and Peter and the extended family. John was very much loved and respected, he will be greatly missed.
2021 Angela Taylor Memorial Run/Walk
Posted by: Blue Ribbon Foundation

Registrations are now open for the Angela Taylor Memorial Run/Walk to be held on Sunday, 18 April at Albert Park Lake.
We hope you can join us.
https://remember.org.au/events/angela-taylor-memorial-walkrun/
New Constable T Bears
Posted by: Blue Ribbon Foundation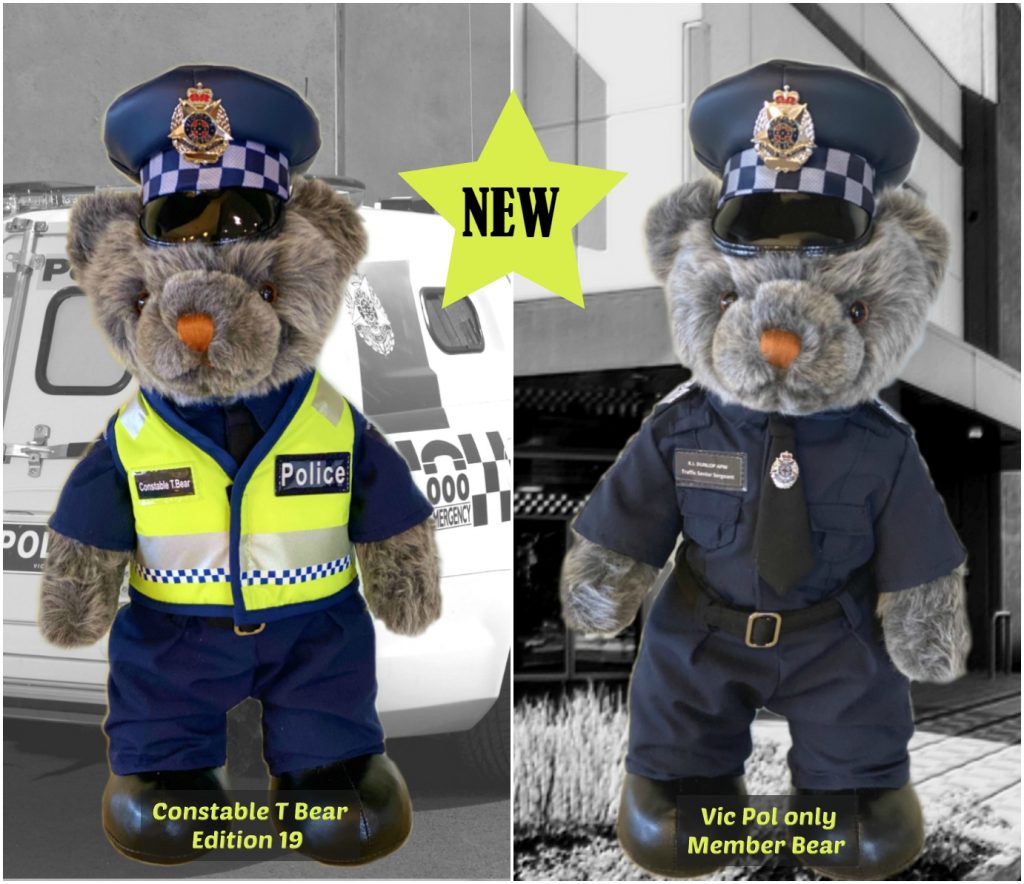 We are excited to share the news that we are now releasing two new Constable T Bears.The first is our long awaited Edition 19 Constable T Bear – General Duties. Only a limited quantity of these Bears have have been commissioned for this special release.
The second Bear is exclusively available for Vic Pol members both current serving and veterans.Your Bear will be personalised with your name, rank and registered number.These Bears are available for pre-orders online now.https://copshop.com.au/product-category/constable-t-bear/
Thank you Bunnings
Posted by: Blue Ribbon Foundation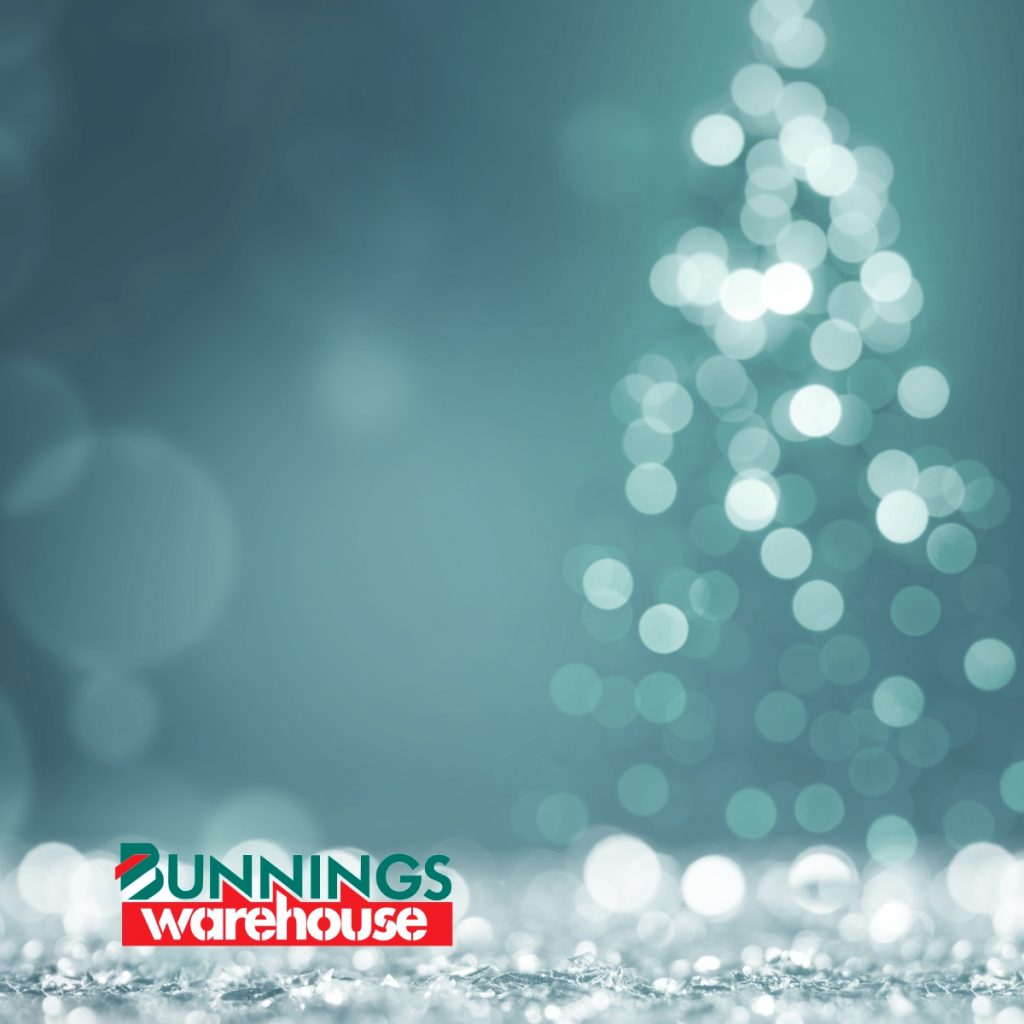 For many years Bunnings Warehouse Australia has been supporting our Foundation including Blue Ribbon Day.We are thrilled that they have now expanded their support. This year a portion of their festive lighting sales will be gifted to the Foundation and also Police Legacy organisations across Australia.We thank the Bunnings team for all their support.
https://www.bunnings.com.au/
Remembrance Service 29 Sept at 10am
Posted by: Blue Ribbon Foundation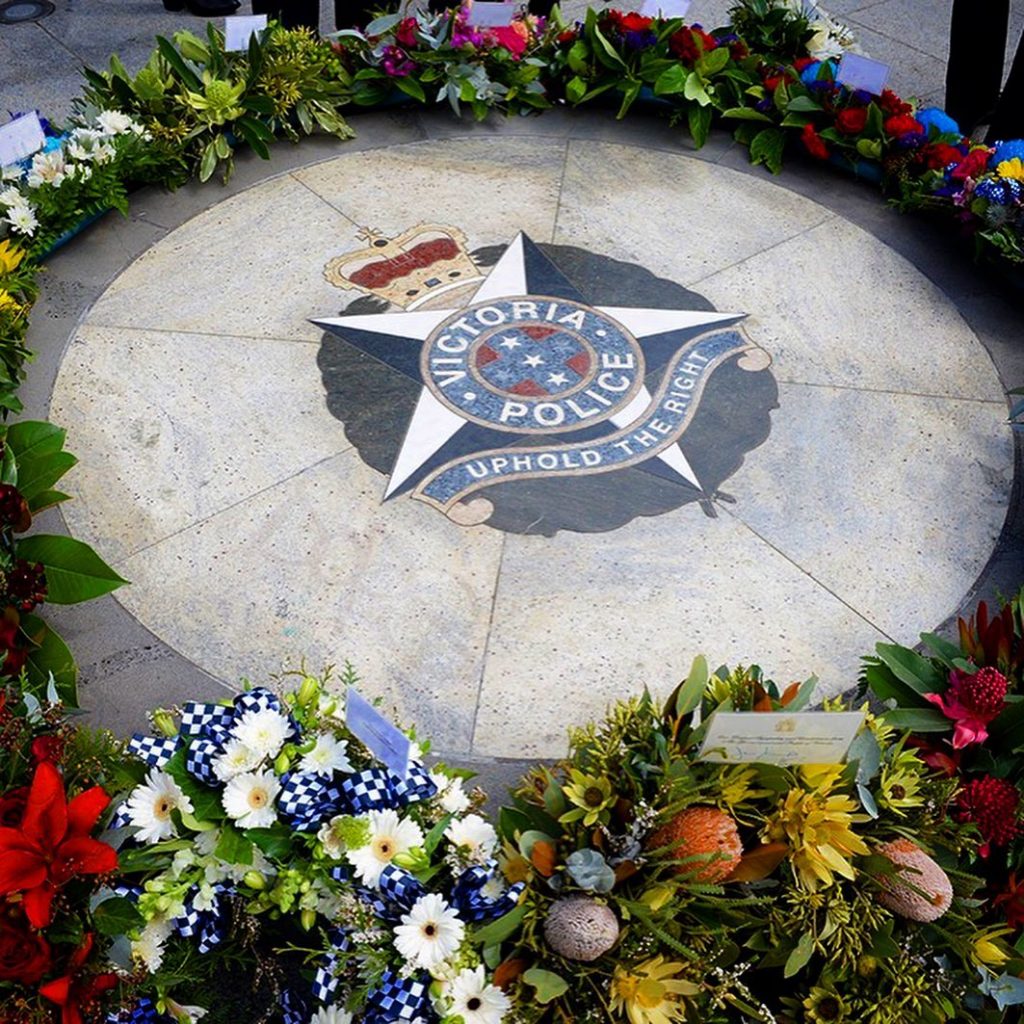 This year, due to coronavirus (COVID-19) restrictions, a virtual National Police Remembrance Day (Victoria) memorial service will be streamed on Victoria Police YouTube
www.youtube.com/VPBlueTube from 10am AEST on Tuesday 29 September, in lieu of a traditional service.
Blue Ribbon Day 2020
Posted by: Blue Ribbon Foundation

Blue Ribbon Day is 29 September, which coincides with National Police Remembrance Day.
Blue Ribbon Day is a chance for the community to say thank you to those who protect and serve our community and ensure that those who have fallen are never forgotten.
This year it means more than ever. 2020 has been a difficult year and it has been especially challenging for Victoria Police, tragically losing four members in April and now supporting our efforts in the fight against COVID-19.
We hope you will support our campaign to remember the 170 Victoria Police Officers who have died in the line of duty and say thank you to all Victoria Police officers for their work in serving & protecting our community.
https://remember.org.au/events/blue-ribbon-day/get-involved/
There are many ways you can support Blue Ribbon Day :
Wear a blue ribbon – The blue ribbon is a visual symbol of your remembrance of the police officers who have made the ultimate sacrifice. It is also a symbol of support for our serving members. You can purchase ribbons to wear or display from our online store.
Donate to our Blue Ribbon Day Appeal – We remember lives by saving others. Building new and improved emergency facilities in Victorian hospitals that are then named in memory of fallen officers. You can donate any Woolworths Store in Victoria or you can Donate here
Turn Victoria Blue – Decorate your workplace, front fence or balcony in blue ribbons to show your support for Victoria Police. Visit our online store for Remembrance Kits and Ribbons.
Get involved on social media – Show your support via social media using the hashtags #BlueRibbonDay2020 #BRD2020
COVID Update – Stage 4
Posted by: Blue Ribbon Foundation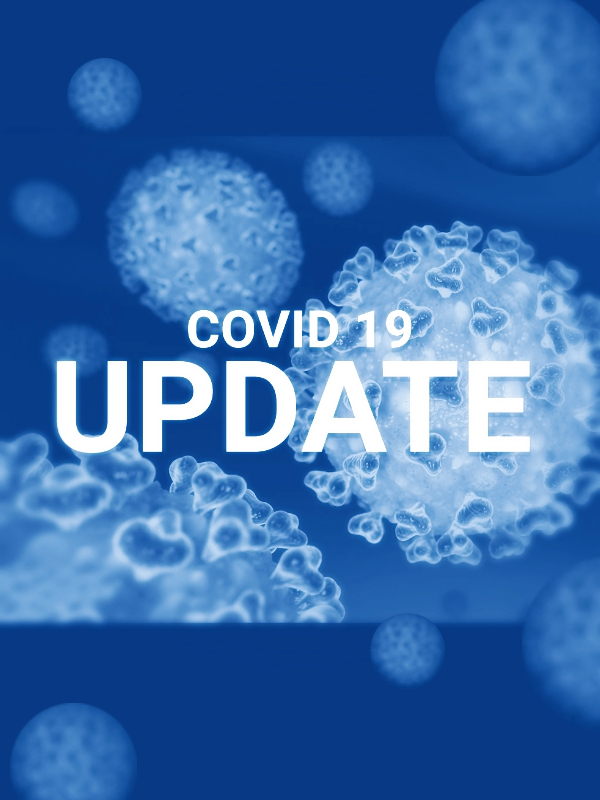 From midnight Wednesday 5 August the new COVID -19 Stage 4 business restrictions come into effect.
Our office in Moorabbin will be closed to the public however we will continue to respond to your emails and queries remotely. If you phone our office, please leave a message if no one is on site and we will call you back as soon as possible.
In line with the government guidelines we can continue to process your online orders with minimal staff on site whilst meeting our COVID Safe Plan obligations for the prevention and management of COVID-19, including development of a COVID Safe Plan.
We will process your orders as quickly as possible whilst meeting all the safe COVID 19 practices. Australia Post has experienced a surge in parcel deliveries so they may have some delays but rest assured you will get your delivery.
Thank you for all your support and please stay safe. We know this is a very challenging time for many people but try to stay positive as we will get through this.
COVID 19 – Lifesaving support
Posted by: Blue Ribbon Foundation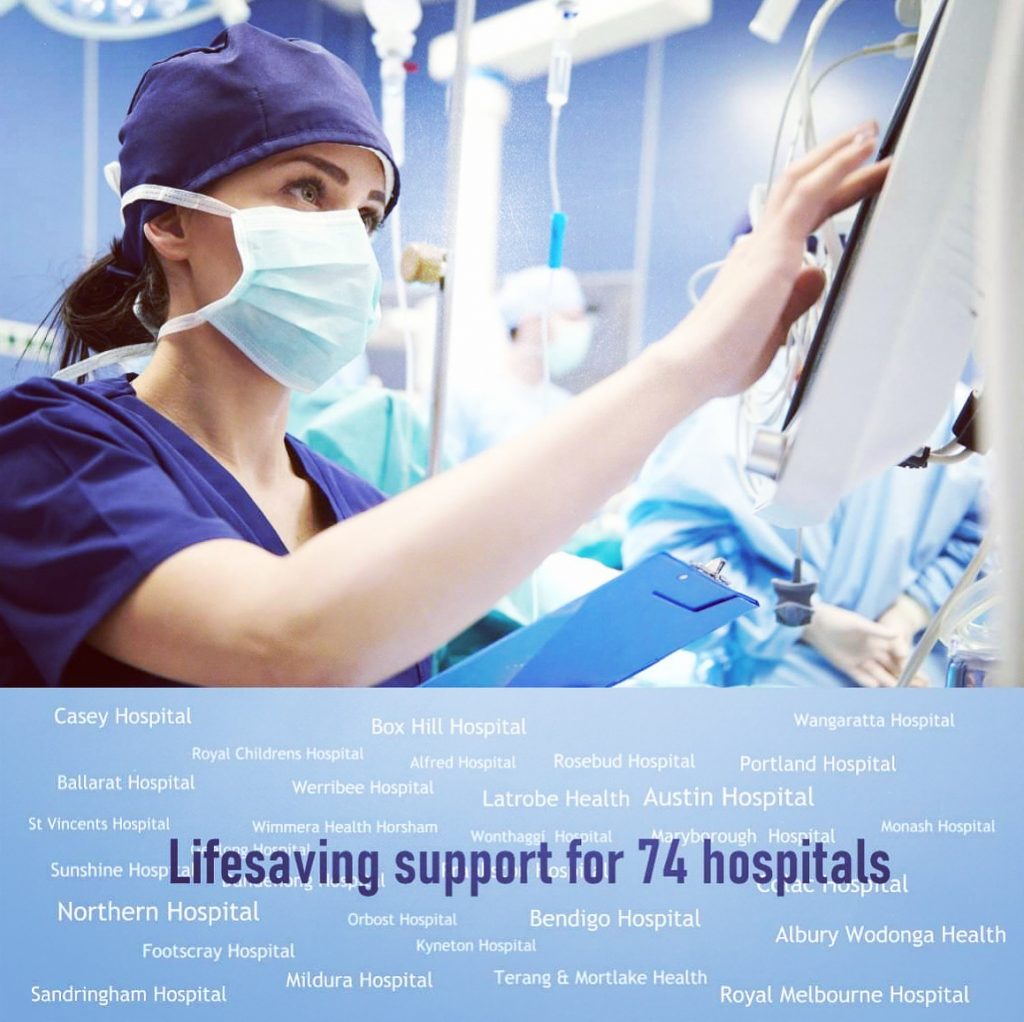 We are thrilled to let you know the final result for our COVID-19 appeal.
74 hospitals were nominated to receive support with almost $70,000 being raised from your donations and purchases of Constable T Bears.
100% of those funds have now been passed onto the 74 hospitals to support their lifesaving work.
We are so grateful for all the support especially as we know times are so challenging.
Click here to see full list of hospitals that were nominated to receive donations.
Thank you
Posted by: Blue Ribbon Foundation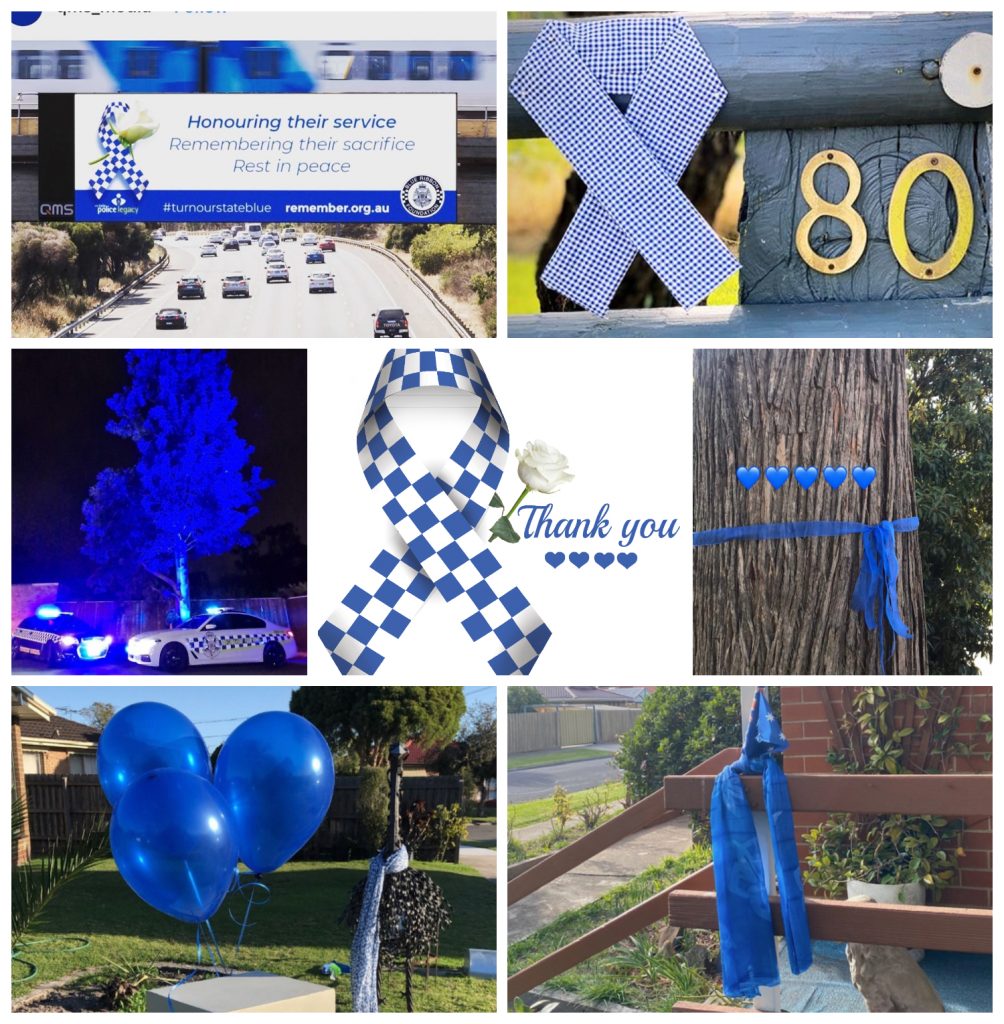 Thank you to everyone that has shown their respect for the four fallen Victoria Police Officers by turning our state blue with ribbons, balloons and lights shining in blue.
During such a tragic time, it has been heart warming to see the photos you have shared with us showing your tributes and respect for all Victoria Police members.
What a wonderful community we have.