Latest News
Registrations are open !
Posted by: Blue Ribbon Foundation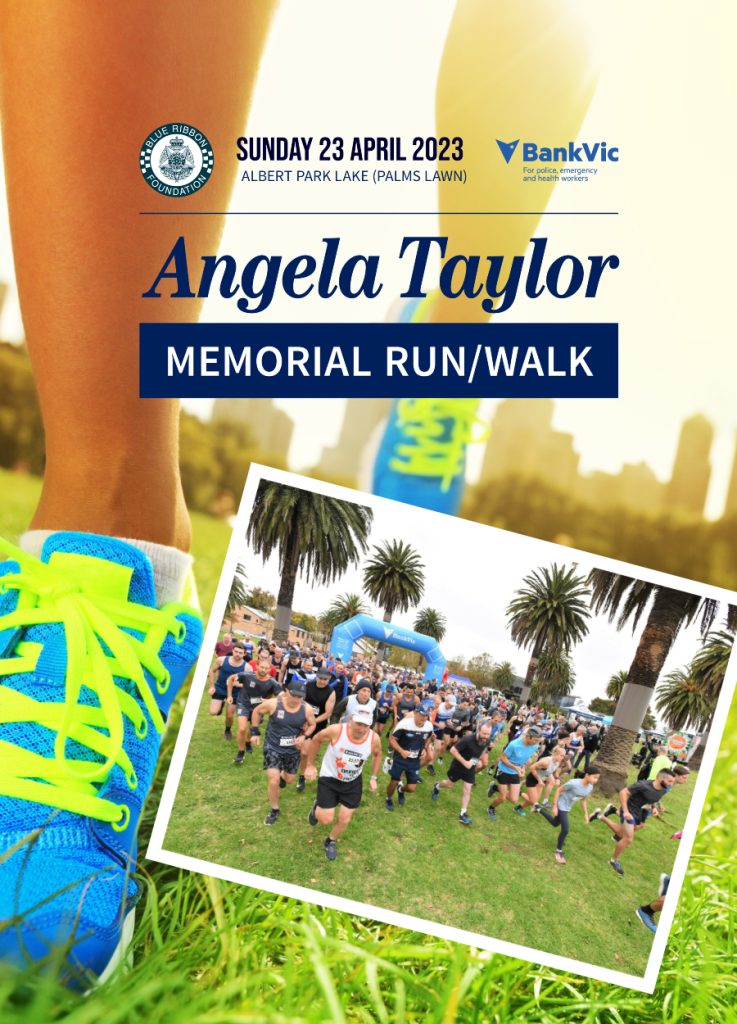 Registrations are now open for the 2023 Angela Taylor Memorial Run/Walk – Sunday 23 April at Albert Park Lake.
This event is held in honour of Constable Angela Taylor and all Victoria Police members that have died serving and protecting our community.
Why not get together a group of friends, family or work colleagues and register as a team. You can choose to do the 5km walk, 5km or 10km run.
Police, Emergency Services, and Health Care teams can compete for the Angela Taylor Memorial Shield.
We thank the team at BankVic for their support as our Principal Partner for this event.
For further details and to register – https://remember.org.au/…/angela-taylor-memorial-walkrun/
Posted by: Blue Ribbon Foundation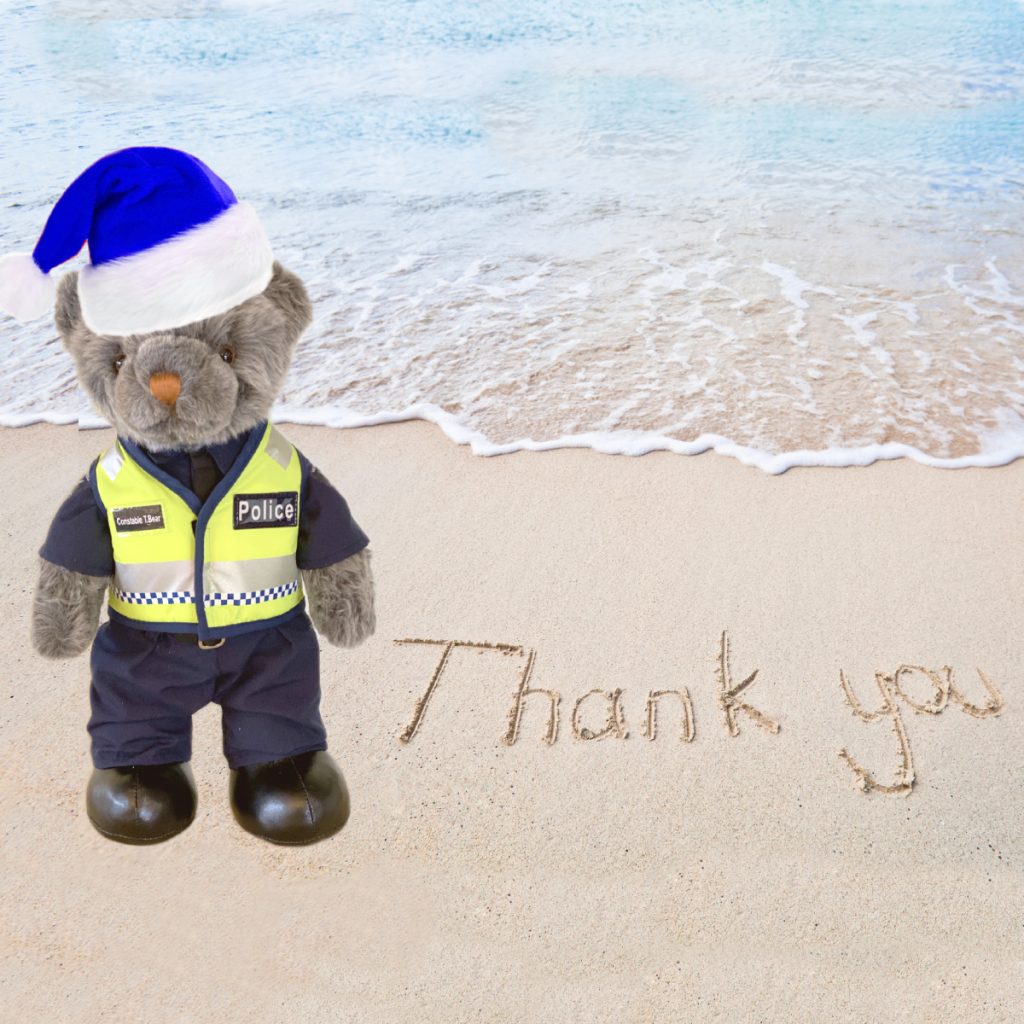 As we wind up a busy year, we wanted to say thank you to the many people that supported our Foundation throughout the year – community members, families, businesses, our ambassadors, sponsors and police members, we truly appreciate everything you do.
A special thank you to the many volunteers and committee members across Victoria who have generously given their time to support our work. We hope you enjoy some well-deserved rest.
We are taking a short break….our Moorabbin office will closed from 24 December until Monday 9 January.
Have a safe and Merry Christmas
We are hiring !
Posted by: Blue Ribbon Foundation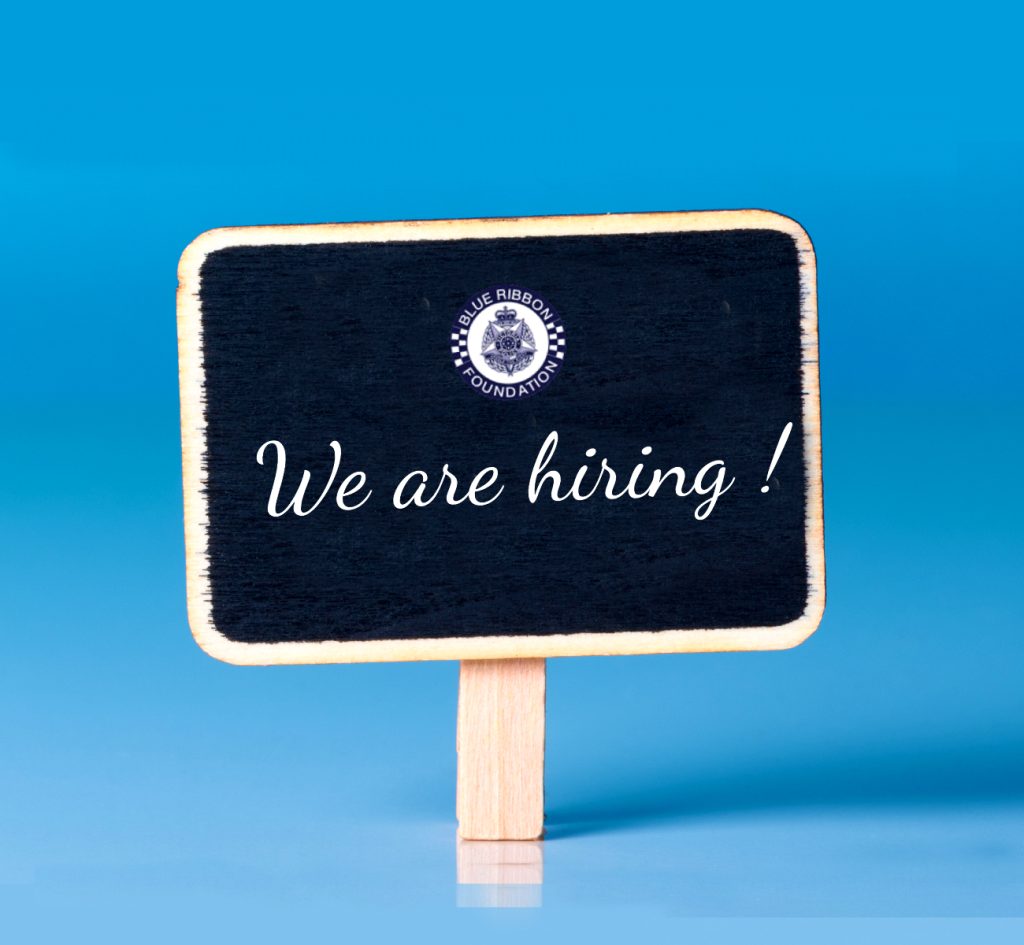 Want to join our small team at the Blue Ribbon Foundation ?
We are currently recruiting for two roles – Community Engagement Manager and Communications Officer.
Both roles will help to support our mission to perpetuate the memory of Victoria Police employees who have died in the line of duty through the support of worthwhile community projects in Victoria.
For details for these roles please visit :
2022 Blue Ribbon Day
Posted by: Blue Ribbon Foundation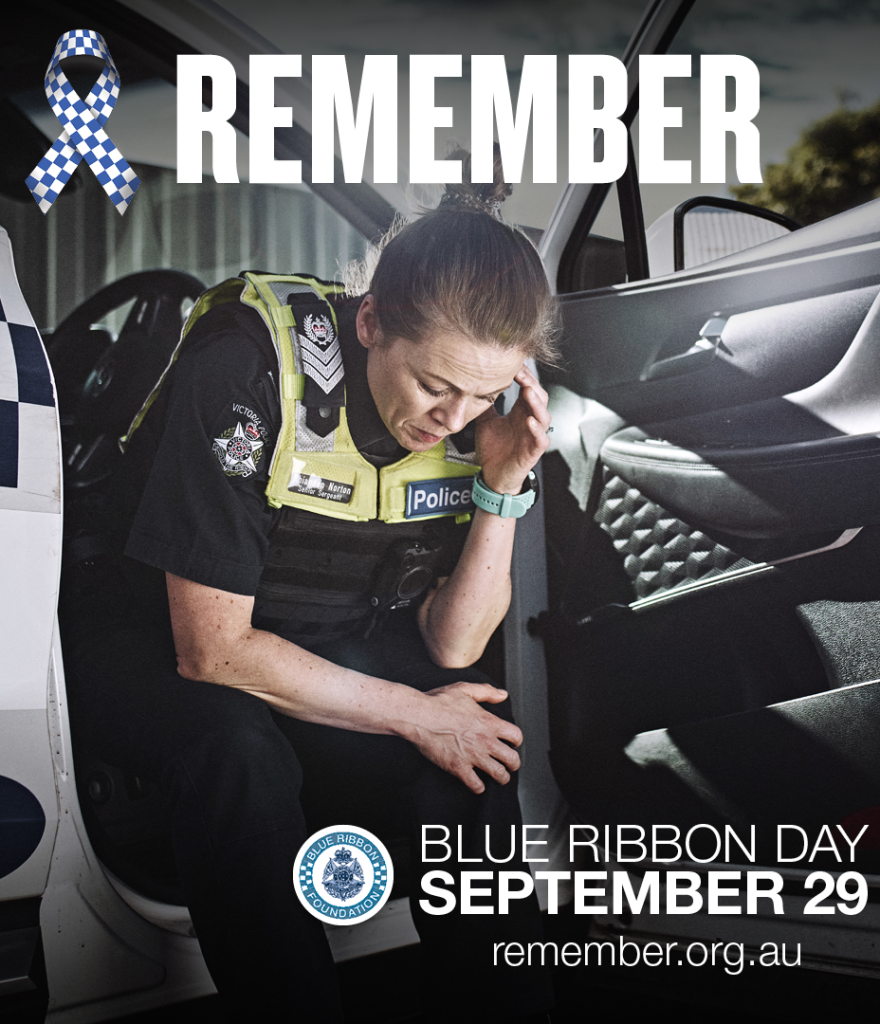 Blue Ribbon Day is 29 September, which coincides with National Police Remembrance Day.
Blue Ribbon Day is commemorated throughout September and it is a chance for the community to say thank you to those who protect and serve our community and ensure that those who have fallen are never forgotten.
We hope you will support our campaign to remember the 174 Victoria Police Officers who have died in the line of duty and say thank you to all Victoria Police officers for their work in serving & protecting our community. Their work can often leave physical and emotional scars, giving thanks and showing your support means so much
Our work is to remember lives by saving others. Building new and improved emergency facilities in Victorian hospitals that are then named in memory of fallen officers. Proceeds from Blue Ribbon Day help to fund these projects named in their honour.
Dedication Ceremonies honouring 7 Victoria Police Members
Posted by: Blue Ribbon Foundation
Last week, we were proud to work with our Greater Shepparton and Westgate Blue Ribbon Foundation branches to host Dedication Ceremonies honouring Victoria Police Members who had died in the line of duty.
On Wednesday 24 August, with our Greater Shepparton Blue Ribbon Foundation branch and Goulburn Valley Health we hosted a Police Memorial Dedication Ceremony in Shepparton to honour the life and service of five Victoria Police officers and dedicate a special memorial to all members who have died in the line of duty.
We honoured the life and service of Constable Victor Nelson (12 July 1925) and Senior Constable Ian Crilly (13 August 1994) with the dedication of the Shepparton Hospital (GV Health) Emergency Department Isolation Room attached to the Emergency Department named on their honour.
During the ceremony we also re-dedicated two existing units in the hospital – Ray Denman Short Stay Unit and the Eyre-Tynan Emergency Department which have been relocated and expanded with the re-development of the Shepparton Hospital.
On Friday 26 August,
we joined with our Blue Ribbon Foundation Westgate Branch in honouring the life and service of Senior Constable Barry O'Donoghue and Constable Malroy John McDonald in a Police Memorial Dedication Ceremony at Sunshine. After 2 years of delays due to COVID it was such a privilege to come together to officially dedicate 'The Emergency Diagnostic Service at Sunshine Hospital' (Western Health) in honour of Senior Constable Barry O'Donoghue and Constable Malroy John McDonald.
Their community service will continue with these hospital emergency facilities at Shepparton and Sunshine hospitals saving lives in their honour. They will always be remembered.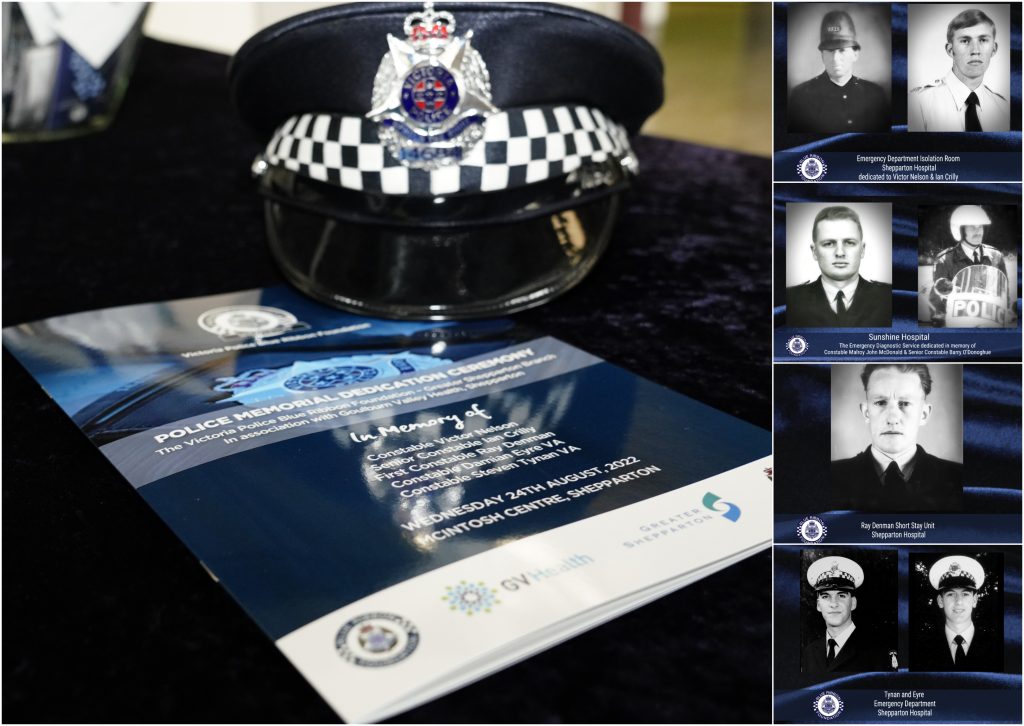 AFL Blue Ribbon Cup
Posted by: Blue Ribbon Foundation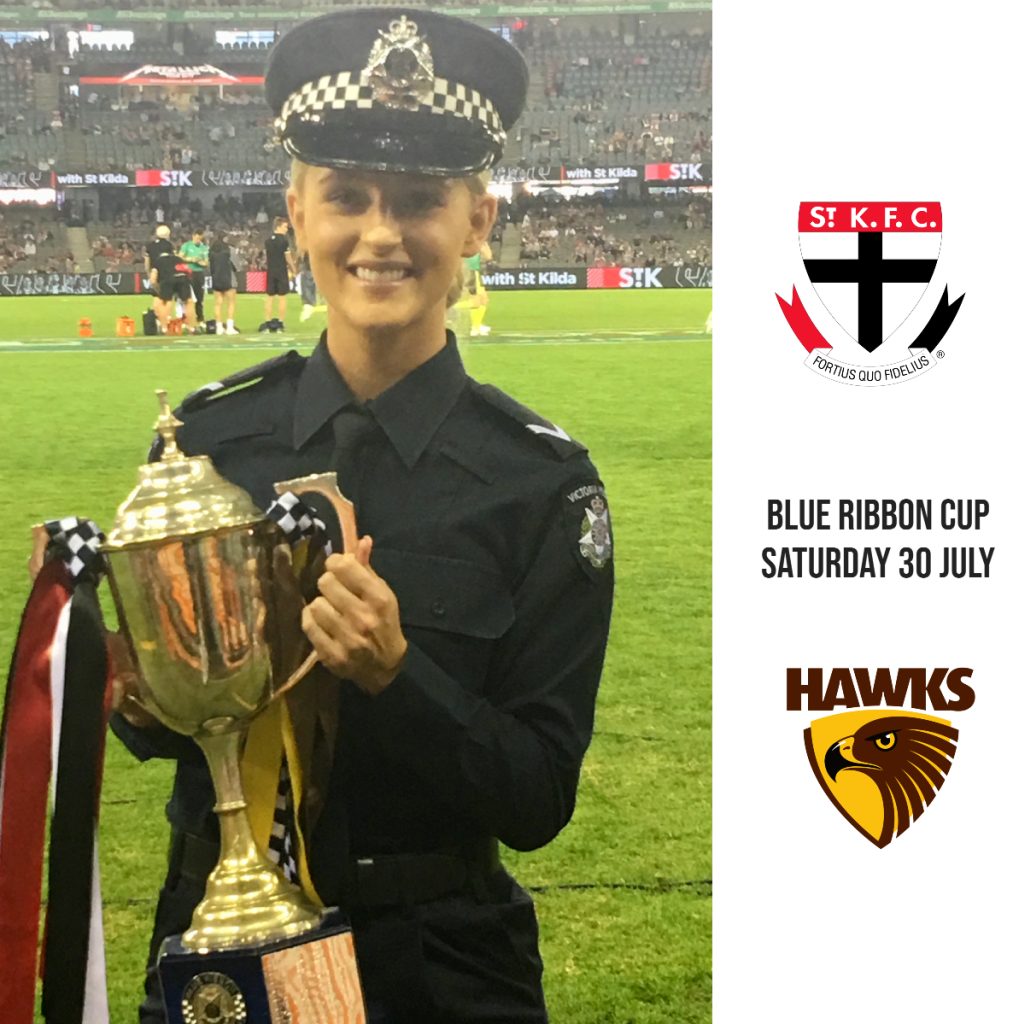 We are looking forward to next Saturday when the Saints and Hawks will play for the Blue Ribbon Cup at Marvel Stadium.
Established in 1999, the Blue Ribbon Cup is played in memory of Victoria Police officers Sergeant Gary Silk, and Senior Constable Rodney Miller who were killed in the line of duty at Moorabbin 16 August 1998.
The Blue Ribbon Cup not only pays tribute to all our police members who have fallen in the line of duty but also acknowledges the work and dedication of those who continue to serve.
Pic from 2019 Blue Ribbon Cup – Constable Guiney presented the match day football to officials.
2022 Blue Ribbon Ball
Posted by: Blue Ribbon Foundation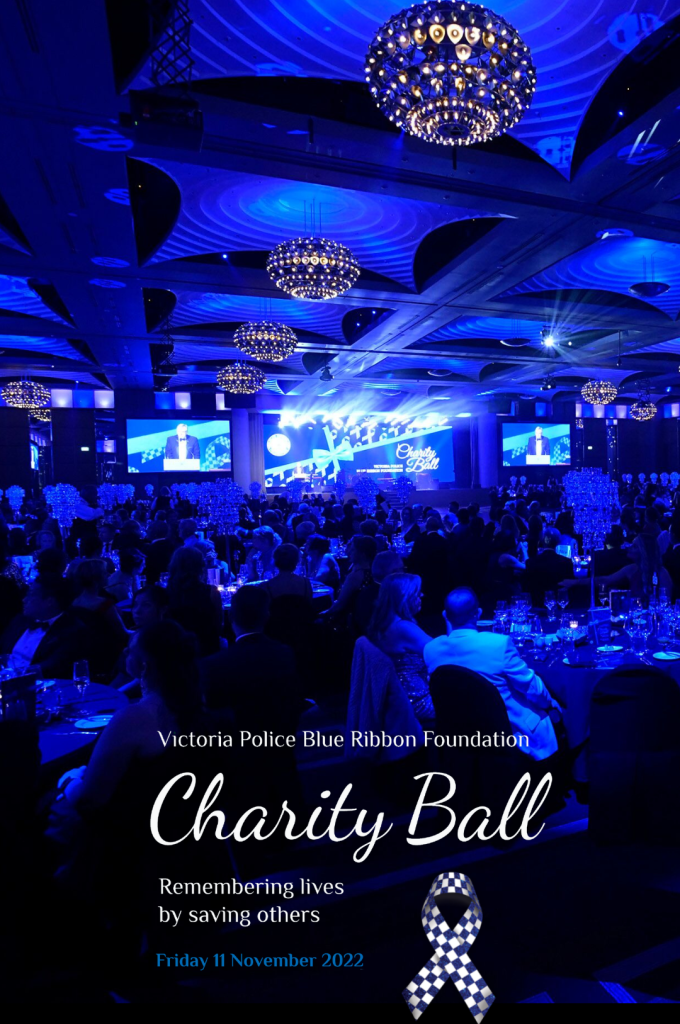 After so many postponements (3 to be exact) our Blue Ribbon Charity Ball is now happening on Friday 11 November. If you want to join us, you will need to book soon as 85% of tickets have already been sold.
The ticket price includes a 3 course dinner, drinks and live entertainment, featuring the super talented and always fabulous Tim Campbell with his band. What a joy it will be to again dance and enjoy his live music.
Thank you to all our guests, partners and auction contributors who have stuck with us during all the delays.
Our principal partners BankVic, Australian Defence Apparel, Motorola Solutions and supporting partners MA Services Group, Uber, 9 News Melbourne, Encore and Crown Resorts Foundation.
Event Details
$250k first prize pack including two fully electric cars
Posted by: Blue Ribbon Foundation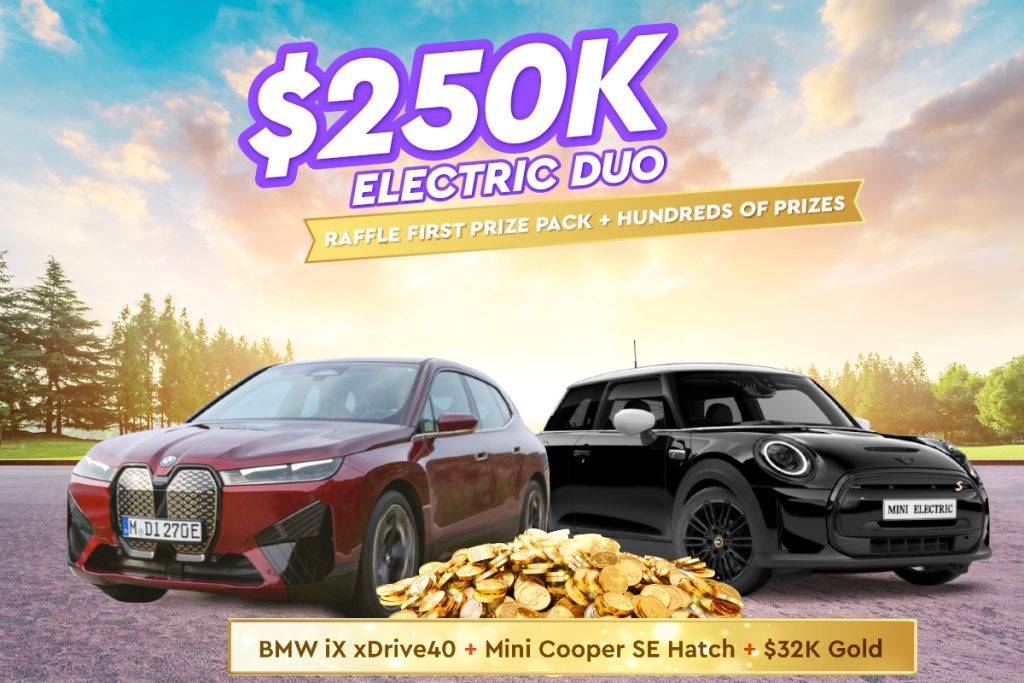 You could win an Electric Duo 1st prize package worth $250,000. Take a spin in the iconic MINI Cooper SE Hatch and cruise around the city streets OR hit the open road in the spacious BMW iX xDrive40 SUV.
Plus with $32K in cashable gold included in the first prize pack, you're set for a super-charged adventure no matter where you decide to go!
Plus there is the chance to win hundreds of other great prizes. Raffle draw closes on Thurs 15 September 2002.
Good luck to all ticket holders !
Every ticket helps to fund our community and public hospital projects in honour of Victoria Police Officers who have died in the line of duty.
Get your Tickets
Exclusive Constable T Bear Auction
Posted by: Blue Ribbon Foundation

We are excited to share the news that we our holding an online auction of selected Constable T Bears including the highly sought after Edition 1 & 2 Bears.
The Foundation released our very first Constable T Bear back in 2000 and Edition 1 is now especially valued by our collectors as are all the Bears that have sold out. With every new edition the Foundation has reserved a very limited number of Bears for quality and after sales service which we are now releasing for this auction.
Our current collectors have the opportunity to add to their collection or someone could start a new collection. We know that many people will be keen to secure one of these Constable T Bears so we felt that an auction provided the fairest opportunity for all.
Proceeds from the auction will assist the Foundation in funding hospital and community projects in honour of fallen police.
The auction is open until 17.00 AEST 22 June. To view the auction items and details about bidding please click here
Ararat Blue Ribbon Foundation branch 20th anniversary
Posted by: Blue Ribbon Foundation
On Friday 27 May, we celebrated the 20th anniversary of our Ararat Blue Ribbon Foundation Branch at their annual Blue Ribbon Gala Dinner.
The Branch is led by a group of committed volunteers who generously give their time to honour the fallen and raise funds for the local Eastern Grampians Health Service for life saving facilities and equipment dedicated in honour of fallen Victoria Police members. At the Gala Dinner, we also celebrated the enormous contribution of the inaugural Branch President Terry Weeks who served from 2002 to 2022 until he passed away in February. His legacy will continue.
The local community and businesses including ACE Radio and AME Systems who support the Branch, turned out in force to help celebrate the 20th anniversary and raise funds to purchase a new X Ray machine for the local hospital.
Branch President Dianne Radford announced the Branch has achieved the incredible milestone of raising $1 million to honour fallen Victoria Police members. An amazing outcome for a small group of volunteers working together with their local community.