*Further Dates and Service to be confirmed*
March and National Police Day Service:
10.00 am, Friday 29 September
Princes Bridge, St Kilda Road to King's Domain, Melbourne
Parade will start at Princes Bridge St Kilda Rd and will move along to the Victoria Police Memorial, Kings Domain. A service will follow at the Victoria Police Memorial.
Sunshine:
11.00 am, Wednesday 27 September
Club Italia, 128-152 Furlong Road, Sunshine
10.45 am arrival for guests
Refreshments following service
Boroondara:
2.00 pm, Friday 29 September
Boroondarah Police Complex, 34 Harp Road, Kew East (3102)
Springvale:
4.00 pm, Friday 29 September
Springvale Botanical Cemetery, 600 Princes Hwy, Springvale VIC 3171
Victoria Police Memorial – Cnr Fifth & Sixth Roads
Outdoor Ceremony followed by refreshments
Regional Victoria
Ararat:
10.00 am, Friday 29 September
Holy Trinity Anglican Church, 47 High Street, Ararat
Refreshments after the service
Ballarat:
11.30 am, Thursday 28 September
St Paul's Anglican Church, 1309 Sturt Street, Ballarat
Bairnsdale:
10.30 am Friday 29 September
St Mary's Cathedral, 23 Pyke Street Bairnsdale
Bannockburn:
11.00 am, Friday 29 September
Bannockburn Police Station, 51 High Street, Bannockburn
Bendigo:
10.00 am, Friday 29 September
St Paul's Anglican Church, 4 Myers Street, Bendigo
March will commence from Williamson / Myer's Intersection.
(Police members wishing to march, form up point: Friends Kebabs, 10 Myers St by 9:45am)
Colac:
2.00 pm, Friday 29 September
Colac Police Station, 42 Queen Street, Colac
Geelong:
10.00 am, Friday 29 September
St Paul's Anglican Church, 171 – 177 Latrobe Terrace, Geelong
Refreshments following the service
Hamilton:
10.00 am, Friday 29 September
Hamilton Performing Arts, 113 Brown Street, Hamilton 
Horsham:
10:00am, Friday 29 September
St Michael and John's Catholic Church, 10 Roberts Ave, Horsham
Refreshments after service
Mildura:
11:00 am, Friday 29 September
Salvation Army Complex, Cnr Etiwanda Ave & 14th St
Rosebud:
10.30 am, Friday 29 September
Rosebud RSL Club, 117 Eastbourne Road, Rosebud
Refreshments following service
Shepparton:
10.00 am, Friday 29 September
Monash Park, Cnr of Welsford St and Fryers St Shepparton
Warragul:
10.30 am Friday 29 September
Warragul RSL
94 Albert Road, Warragul
Warrnambool:
10.00 am, Friday 29 September
Victoria Police Memorial, Gilles Street, South West TAFE, Warrnambool
Channel 7 News recently covered the ECMO machines that Blue Ribbon Foundation and its partners with your support and donations have helped save lives.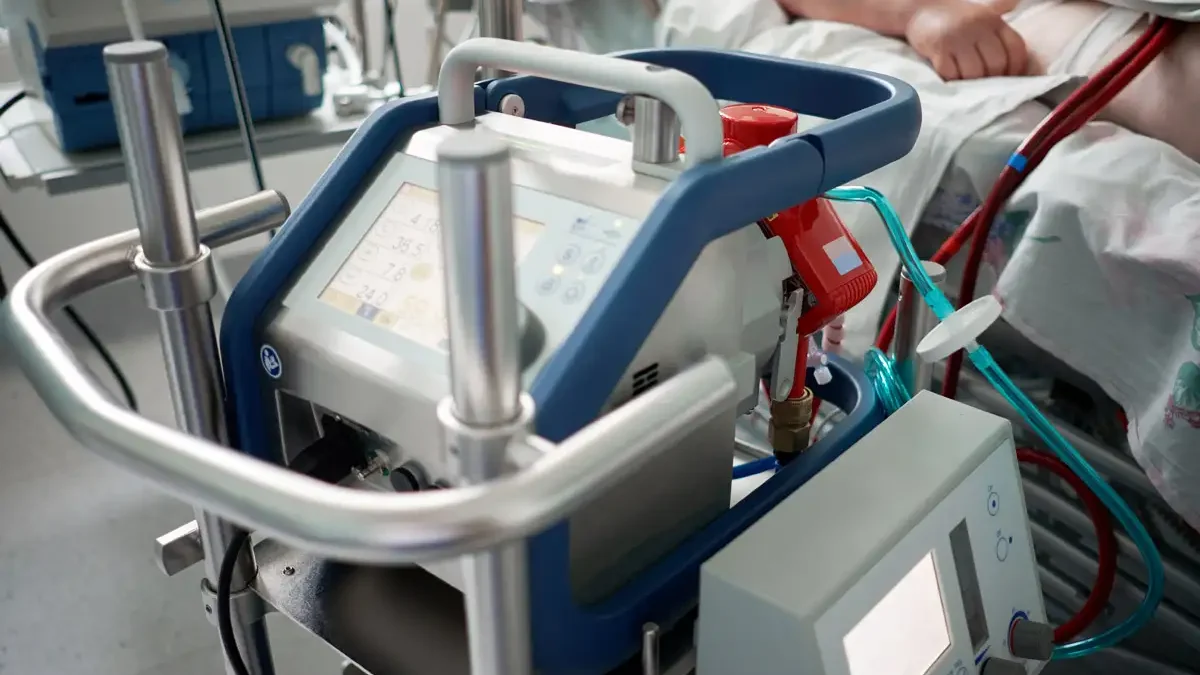 Watch through the link below:
The Blue Ribbon Foundation Ararat Branch on Saturday awarded the 'Spirit of Football' awards for the "Fairest & Best" players from the Ararat & District Junior Football Association.
Winners were Edward Astbury (Rovers), Charlie Billett (Warriors), Owen McKinnon (Bombers) and Hunter Newberry (Mounties). Congratulations to all players.
The Award was given for the player who plays fairly, very much a team player and looks after his footy mates on and off the field and promotes the 'spirit of what footy is all about'.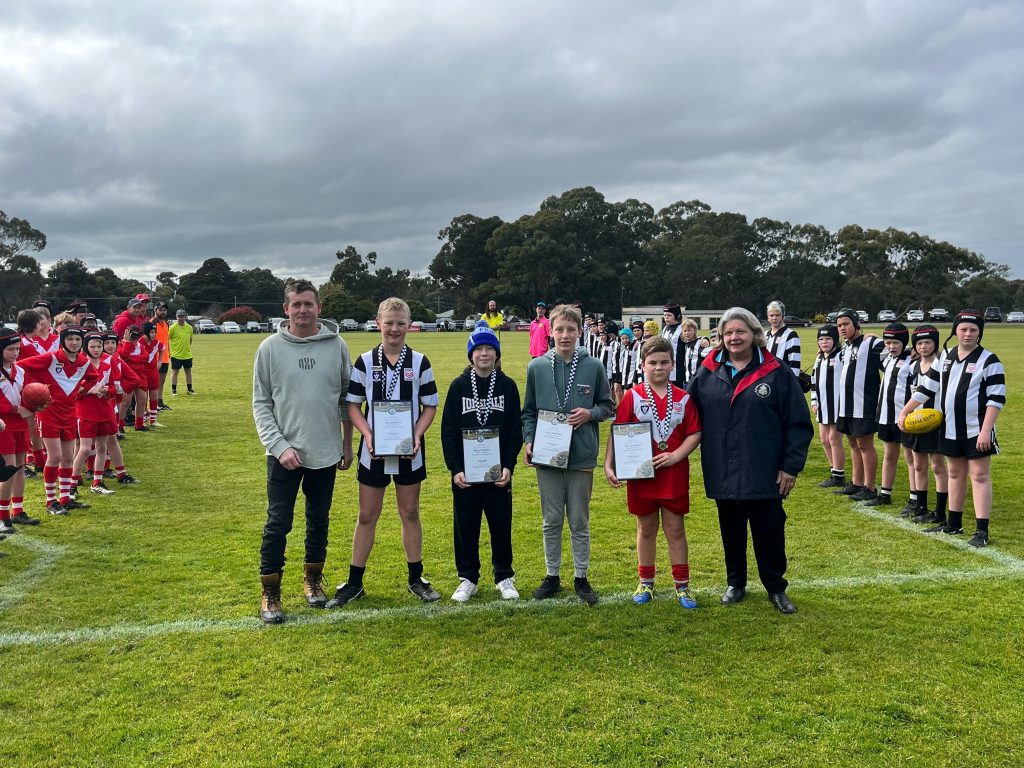 Photo provided by Brad Billett.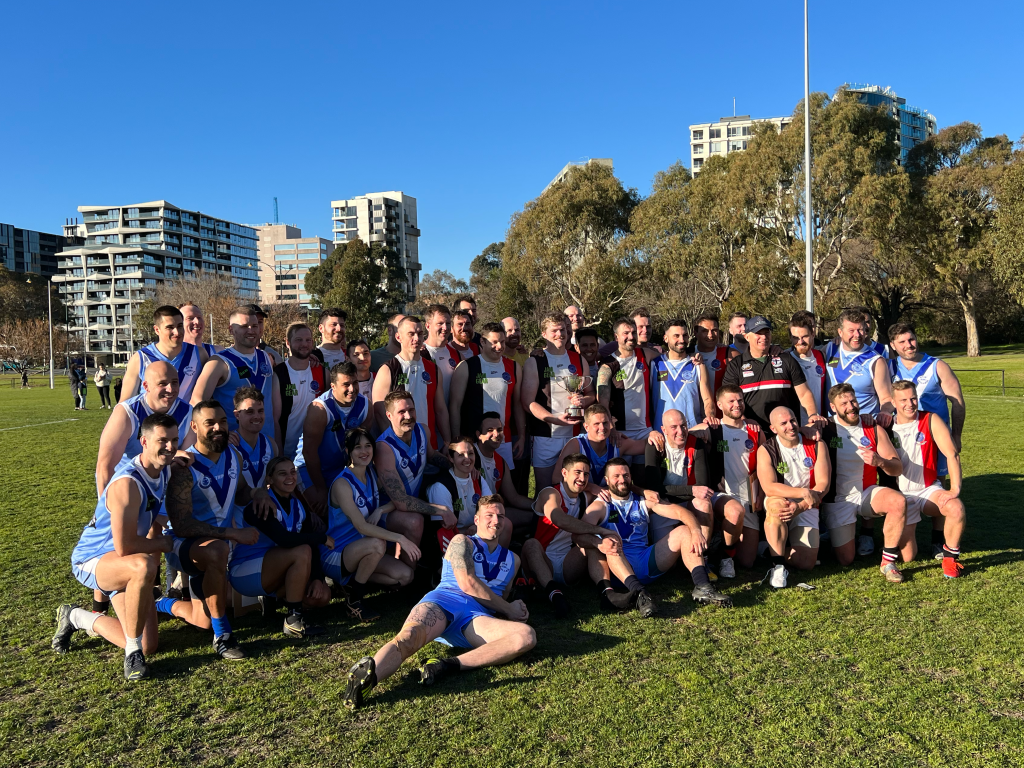 Last week a memorial service was held at Prahran Police Station. The event marked 25 years since Sergeant Gary Silk & Senior Constable Rodney Miller were murdered in Cochranes Road, Moorabbin.
Family members joined members police members, present and past, for a moving ceremony that concluded with a flyover by the Victoria Police Airwing.
Following the service staff from Prahran & St Kilda police stations headed to Albert Park for the annual football and netball contests. Hotly contested, a lot of fun, and great catering courtesy of the Police Association.
Pictured are both teams who contested the footy and the winners of the best on ground medals from each team in netball and football.
The Victoria Police Blue Ribbon Foundation Ararat Branch presented a cheque for $70,000 to East Grampians Health Service as part of its commitment to the purchase of a new Ultrasound system.
The donation is the first instalment in the project, with the Branch expecting to make another donation prior to Christmas and complete the full $135,000 project following the Grampians 'Ride to Remember' in February. The Ultrasound system was purchased and installed at EGHS recently, following the Branch's commitment to the project.
Ararat Branch president Dianne Radford said the branch was pleased to be able to present the first instalment towards the ultrasound system.
"The Ultrasound system is another vital piece of equipment for the Medical Imaging Department, part of the recently dedicated Blue Ribbon Foundation Wing, which we are delighted to support." Mrs Radford said.
EGHS chief executive Nick Bush thanked Blue Ribbon Foundation Ararat Branch for its generous support of the Ultrasound system project.
"Through the Foundation, we are able to provide state of the art equipment and facilities, which would not be possible if not for this generosity and support." Mr Bush said.
In demonstrating the ultrasound system to the Blue Ribbon Foundation members, EGHS
sonographer/radiographer Amy Ferguson said the new equipment was fantastic, easy to use and provided high quality images.
"It is the same ultrasound system we have in use in our other scanning rooms, so it makes it much more efficient for our staff to use," she said.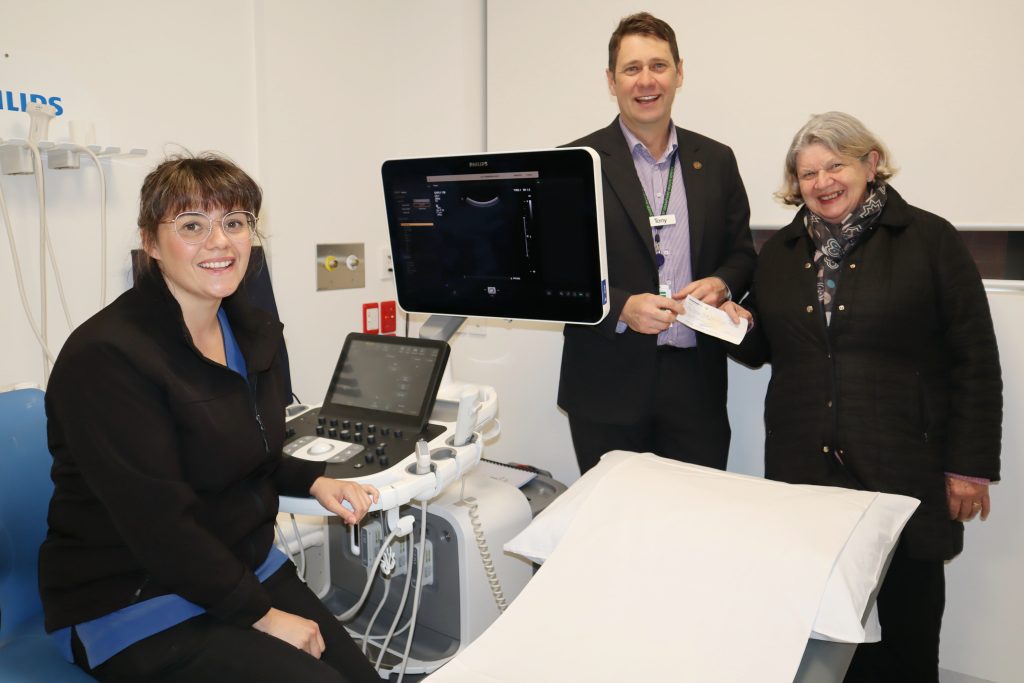 Pictured are EGHS sonographer/radiographer Amy Ferguson, EGHS Director of Finance Tony
Roberts and Victoria Police Blue Ribbon Foundation Ararat Branch president Dianne Radford.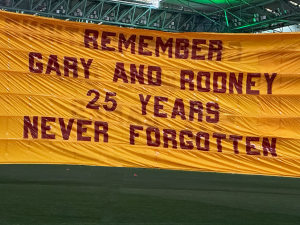 Last Sunday we celebrated the life Sergeant Gary Silk, and Senior Constable Rodney Miller with the annual Hawthorn vs St Kilda Blue Ribbon Cup at Marvel Stadium.
Established in 1999, the Blue Ribbon Cup is played in their memory after they were killed in the line of duty at Moorabbin 16 August 1998.
The Blue Ribbon Cup not only pays tribute to all our police members who have fallen in the line of duty but also acknowledges the work and dedication of those who continue to serve.
Rodney's son Jimmy presented the Cup to winning team St Kilda, while nephew Jonathan and Acting Chief Commissioner Wendy Steendam presented the best on ground.
Thank you Hawthorn Football Club and St Kilda Football Club and the AFL community for your continued support. Also thanks to the Hawks Community Foundation for providing some of the on ground photos.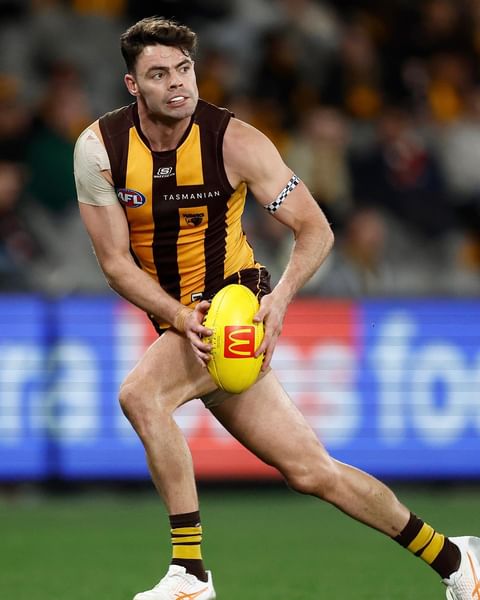 Thanks to the excellent team at Box Hill, we we're able to meet some individuals that had been saved by ECMO at the hospital. The technological advancement at the hospital has saved the lives of people who would no longer be with us had it not been for these facilities.
After delays due to Covid the Blue Ribbon Foundation last week attended Box Hill Hospital to view the Great Wall dedicated to all Victorian Police Officers who have died in the line of duty. Through this remembrance piece, fallen members of Victorian Police are proudly displayed alongside our front line care workers.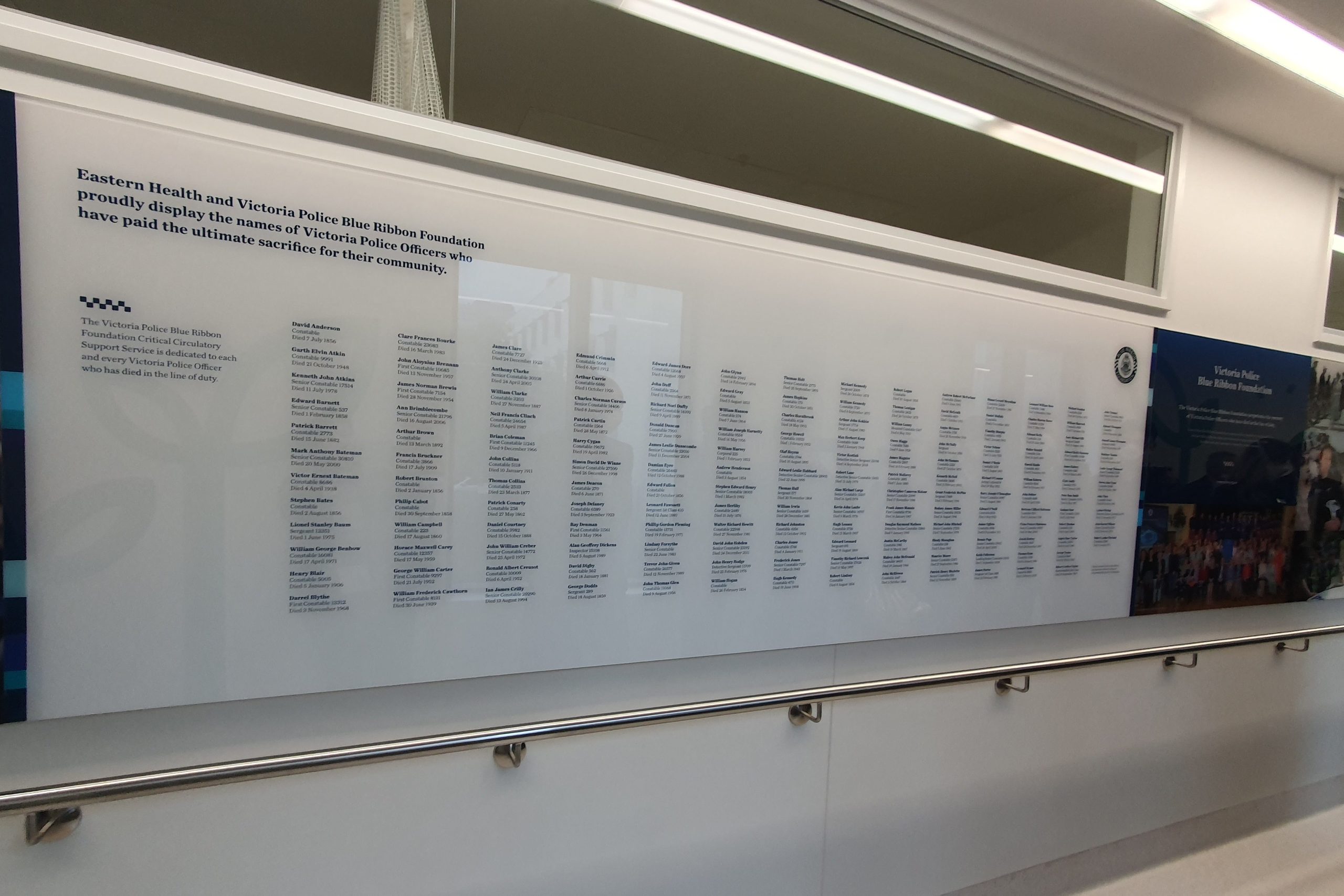 Funds from the foundation have provided Eastern Health with 3 ECMO machines in ICU which have helped save over 60 lives. The donation Box Hill Hospital by Blue Ribbon Foundation marks the foundations largest in our history. This donation in 2019 marked our 30th anniversary as a foundation and helped to provide life-saving service that pumps and oxygenates a patient's blood outside the body, allowing their heart and lungs to rest.
We thank those who provided support to this project including Eastern Heath, Lotus Energy, BankVic, Free Masons Victoria and EFNL.
Raffle 20 Draw Open, Get your Tickets NOW!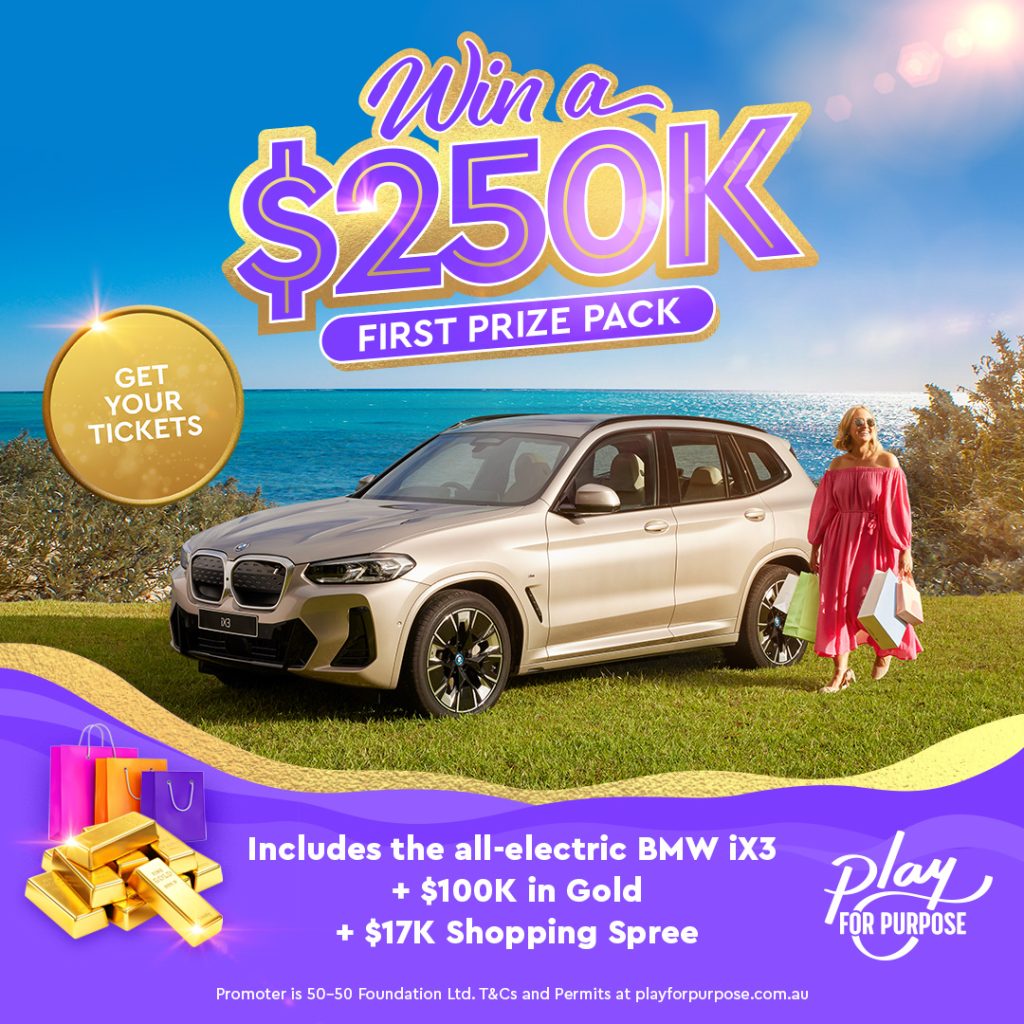 Cruise down the highway in your stunning, all-electric BMW iX3 M Sport, complete with leather sport seats, surround sound & panorama glass sunroof, valued at more than $132,000. This amazing $250K first prize package also comes with $100,000 in cashable gold bullion and a shopping spree worth over $17,000! Life has never been sweeter.
Get your Tickets
Win a Volkswagen Crafter Kampervan and Gold Bullion!
Raffle Closes June 15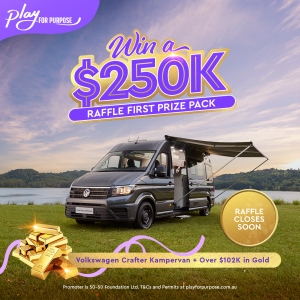 Here's your chance to win the ultimate mobile home for holidays, adventure and fun.
Hit the open road in the incredible Volkswagen Crafter Kampervan valued at over $147,000! This amazing campervan combines the best of Volkswagen engineering with a luxury fit out by legendary caravan craftsmen, Jayco. Comfortable and functional with loads of space, beds, kitchen and more! This $250K life changing first prize package also includes over $100,000 in Gold Bullion. Imagine where you would go!!
Second Prize: Travel Associates gift voucher worth $15,000
Third Prize: Visa gift voucher worth $7,500
Fourth Prize: Freedom gift voucher worth $5,000
Fifth Prize: Ultimate Everyone voucher worth $2,500