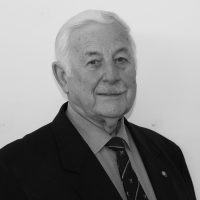 Neville Elkington CPA
Treasurer
Neville is Chair of the Finance & Audit Committee and member of the Remuneration Committee.
Neville Elkington was a member of the Tynan-Eyre Memorial Foundation and elected to the new Committee of Management of the Victoria Police Blue Ribbon Foundation when it was formed in 1998.
Neville grew up in England and, after completing Army National Service, joined the Birkenhead Borough Police in 1956 which later became the Merseyside Police. Migrated to Australia and joined the Commonwealth Police in 1968 which later became the Australia Federal Police. Served as security officer/personal escort to Prime Minister, Gough Whitlam and Deputy Prime Minister, Jim Cairns. On promotion to the rank of Detective Inspector in 1974 established the company fraud/commercial crime detective courses at the Police College in N.S.W. In 1977 was promoted to Chief Inspector and appointed Chief Instructor at the Federal Police College in Canberra then in 1980 transferred to Victoria for periods as O.I.C. Fraud Investigation and Drug Operations. Neville also served as O.I.C. of a multi-force investigation into the Australian meat industry as part of a Royal Commission. He retired from the A.F.P. in 1990 and has been actively involved in the Blue Ribbon Foundation ever since, serving on the Committee of Management and now as Treasurer.